Press
Norman Reedus Appears on Jimmy Kimmel; Lauren Cohan Talks to GQ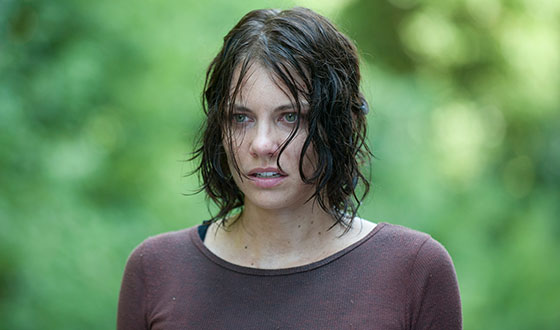 This week, Jimmy Kimmel hosts Norman Reedus, while Lauren Cohan does a photo shoot for GQ. Plus, Entertainment Weekly has a one-minute refresher of The Walking Dead and several cast and crew interviews. Read on for more:
• Norman Reedus shows up on Jimmy Kimmel Live! to talk about his fans, calling them "my people," and describes an interaction with two women who took his breath back to Japan.
• Lauren Cohan, as part of a GQ photo shoot, shares, "I'd always fantasized about playing a southern role."
• Ahead of the new season, Entertainment Weekly provides a one-minute refresher of Season 4.

• Entertainment Weekly learns from Andrew Lincoln that Season 5 "has been by far the most fun season for me to play. It's the most difficult as well, because it's a man who's very single-minded, very determined, very much in control of who he is, every aspect of his life."
• Gale Anne Hurd tells Entertainment Weekly that the show's "embarking on the most ambitious episodes we've ever done in terms of not only the action set pieces, but also the level of emotional weight that's brought to bear on the characters."
• Entertainment Weekly interviews Robert Kirkman, who warns that, in Season 5, "Gareth is far from the only threat, quite possibly far from the biggest threat, and there's quite a bit on the horizon."
• Meanwhile, Steven Yeun relates to Entertainment Weekly that Glenn is "very hopeful for humanity, and I think that's part of what drives him to correct, to help fix the situation if he gets out of Terminus."
• Lauren Cohan, the actress who plays Yeun's onscreen wife, talks to Entertainment Weekly about Maggie and how she'll "come face to face with some things, and it's interesting to see the kind of woman she's becoming in the face of those conflicts." Additionally, Cohan does an interview with Nylon Guys.
• Entertainment Weekly speaks with Chad Coleman, who says of Tyreese that "he's just really afraid of who he will become if he didn't hold on to his core values and the way he believes a human being should go about their lives, especially in relationship to the violence." Under the Radar also interviews Coleman.
• Entertainment Weekly plays a round of Gotcha with Emily Kinney in an attempt to get her to spill some of The Walking Dead's Season 5 spoilers.
• Entertainment Weekly reports that The Walking Dead has been renewed for a Season 6, noting that it's "become the No. 1 show on television in the adults 18-49 demographic for the last two years, a feat almost unheard of for a cable show."
• Andrew Lincoln, interviewed by The Telegraph, says, "England will always be home, and I will continue to work in England and Europe. But there's something particularly exciting about working here, and particularly playing an American in America."
• The Hollywood Reporter quizzes several cast members, asking, "Will your character hook up, be killed off or be separated from the group?"
• Access Hollywood interviews Norman Reedus and Melissa McBride, who says the theme for the new season is "who are you now?"
• Michael Cudlitz talks to Access Hollywood about Abraham and Rick's relationship, that "as long as he stays out of my way, it's not going to be a problem."
• Dread Central has a video of Robert Kirkman interviewing Chandler Riggs, who says, "As the seasons go along, it's really interesting to see how Carl's character evolves over the years." Also on Dread Central, Kirkman speaks with Danai Gurira about Michonne's wig.
• Robert Kirkman, interviewing Melissa McBride for Dread Central, says that Carol has "basically evolved into Rambo" in Season 5. Talking to Gale Anne Hurd and Lauren Cohan, he jokes about all 16 episodes taking place in the boxcar at Terminus.
• Melissa McBride chats with Under the Radar about Carol, remarking, "I enjoy the challenge of finding her depth. And I love her—I love this character. I do feel like she's very alive for me. I feel protective of her."
• Under the Radar speaks with Josh McDermitt, who thinks the show connects with viewers because they "don't watch this show by themselves. They watch it with their families and friends. Not every show can do that, and there's something nostalgic about the way our show is viewed." McDermitt also talks to Los Angeles Confidential about Season 5.
• Alanna Masterson tells Under the Radar that she's always prepared for Tara to die: "Coming on to the show, that's what it is. When you come to work, you come to work expecting it."
• ComicBook.com chats with Steven Yeun, who says of Glenn and Abraham that "there's a big, mutual respect there. I think both of them have been through quite a bit together and they kind of vouch for each other through their actions."
• ComicBook.com talks to Melissa McBride, who characterizes Carol and Daryl's relationship as "let's see how many steps forward we can get and if one goes backwards, one's there to pull them forward again. Keep an eye out for each other in that way."
• Chatting with Billboard, Emily Kinney, an actress and musician, jokes that zombies listen to "Michael Jackson, Prince . . . Any dance music. They need it to keep their spirits up!" Kinney also answers Channel Guide Magazine's seven questions and talks to Under the Radar.
• MTV describes the Season 5 premiere as "undoubtedly the most (quite literally) explosive, relentlessly violent and ultimately satisfying season-starter the show has ever delivered."
• Entertainment Weekly calls the premiere "a nail-biting, jaw-dropping, stomach-turning, fast-paced—shall I go on?—hour that will leave you on the edge of your seat."
• Previewing the season opener, the New York Daily News says that "it won't surprise anyone to learn things get a little worse when season five opens on Oct. 12."
• Zap2it provides six spoiler-free teasers from the Season 5 premiere.
• Heavy recommends attending The Walking Dead panel at this weekend's New York Comic-Con.
• In a clip from IFC's Comedy Bang! Bang!, Steven Yeun shares his tips on how to stay safe and be ready "as the undead take over the city streets."
• Michael Rooker tells Tulsa World that "Merle is not the nicest person in the world, and yet people came to love that character, because even in his most wicked manifestation, they saw through him and saw into his heart and wanted to see some good in him."
• Norman Reedus, talking to Extra, says he'll riot along with the fans if Daryl dies: "I'll be the first in line. I'll be passing out matches to all of you."
• Fashion & Style has a video interview with Emily Kinney, who talks about why lots of viewers identify with Beth.
• The Washington Post speaks with Norman Reedus, Andrew Lincoln and Steven Yeun about fan mail and on-set pranking.
• Digital Spy explains why you don't have to like zombies to love The Walking Dead, citing the show's "dedication to character and performances, and its satisfying, slow-burning storytelling."
• Moviefone ranks the show's characters, from most to least expendable.
• The episode of SundanceTV's The Writers' Room starring Robert Kirkman is back on sundance.tv (log-in required).
• Broadway World showcases a new Season 5 featurette.
To stay up-to-date on all the latest news about The Walking Dead, sign up for the weekly Dead Alert newsletter.
Read More