Press
Andrew Lincoln, Andrew J. West On Gareth's Death; What Scares Steven Yeun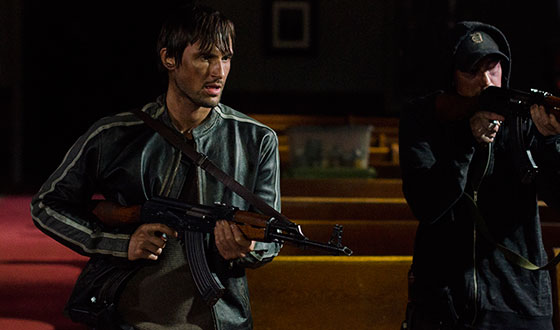 This week, Andrew Lincoln and Andrew J. West discuss Gareth's death, while Steven Yeun and Lauren Cohan talk about what frightens them. Plus, Sonequa Martin-Green speaks with The Hollywood Reporter about the brutal church scene. Read on for more:
• TV Guide interviews Andrew Lincoln, who says Gareth's death was "a brutal killing, but I was very keen for it not to be an indulgent moment. You just see a man getting exhausted by it. It wasn't an emotional moment. This is about squashing this and getting rid of the threat."
• Andrew J. West talks to The Hollywood Reporter about viewer reaction to Gareth: "I hope there are some conflicting feelings about how much they despise or dislike this character. I would have loved to have seen more of Gareth's backstory and to see him ride off into the sunset." Asked by Entertainment Weekly about his The Walking Dead experience, West says, "There won't ever be a job like it. It's a special, special thing: The fan base, the construction of the story, the way the show is executed — it's unlike anything I've ever seen, and it was a dear experience for me."
• Steven Yeun talks to USA Today about things that scare him, a list that does not include The Walking Dead because "at this point, we know the zombies by actual name, so it's like, 'Oh that's Brian.' We're jaded about it."

• Sonequa Martin-Green, interviewed by The Hollywood Reporter, talks about Bob's death: "Speaking from Sasha's perspective, it was gut-wrenching and misery for her. That day was really emotionally taxing, and by the end, we both were a little numb from the roller coaster of it."
• Meanwhile, the New York Daily News learns from Lauren Cohan that she "couldn't open closet doors or sleep alone for weeks" after seeing George Romero's Night of the Living Dead for the first time.
• On Conan, Dana Carvey does his Rick and Hershel impersonations because it turns out he's "a big fan of The Walking Dead."
• The Hollywood Reporter asks Greg Nicotero about Bob's death and how it affects Sasha "because now she has no reason not to kill and do the things that need to be done."
• CarterMatt highlights a post-episode tweet from Lawrence Gilliard, Jr.: "Apologies TWD peeps! Apologies to everyone I've lied to in the past few months. Thanks to all of Bob's rioters! See ya around!"
• Andrew Lincoln, speaking with TV Guide, says Rick is "doing everything in his powers to keep everybody going forward, until we find something safe to hold onto, which is one of the reasons why he goes along with the D.C. plan. People need a horizon."
• Entertainment Weekly wonders who's hiding in the woods behind Daryl at the end of last week's episode.
• The Daily Beast thinks Rick has "evolved from the reluctant leader of a group of zombie apocalypse survivors to a true champion of the new world. His evolution follows the classic pattern of the hero's journey, a narrative structure that dates back to ancient times."
• Comic Book Resources has a video of Danai Gurira teaching Kelly Ripa and Michael Strahan "the finer points of zombie-killing, Michonne-style."
• Details interviews Andrew Lincoln, who describes Season 5 as "a season where maybe two-thirds has this momentum and this drive, and then the final third is like a completely new show."
• TV Guide considers Season 4, Episode 14, "The Grove" The Walking Dead "at its most bleak, unforgiving and memorable. Am I still on board? Am I ever."
• Entertainment Weekly explains how The Walking Dead parallels another major genre epic: The Lord of the Rings.

• Greg Nicotero, talking to MTV, says, "We try to change the look of the zombies every season so that they have decayed and decomposed more because of the elements." Speaking with TV & Satellite Week, Nicotero shares his advice to potential zombies: "We try to avoid the Frankenstein look where the zombie's arms are outstretched. I always tell the actors, keep your shoulders slumped, relax your body. If you're too tense, it looks fake."
• Danai Gurira tells jokes to Esquire and says, of Michonne's katana, "She definitely fears me. But I make sure to treat her like a lady."
• Yahoo TV speaks with Melissa McBride, who uses this saying to describe Carol's story for the rest of Season 5: "Nothing changes until it becomes what it is."
• Vogue asks Eulyn Womble, The Walking Dead's costume designer, for her tips on putting together the perfect post-apocalyptic outfit.
• Jezebel chats with the show's costume designer, Eulyn Womble, about clothing and accessories on The Walking Dead and what they say about the characters.
• WTXL of Thomasville (Ga.) and Tallahassee (Fla.) learns from Scott Wilson that he has Hershel's suspenders, as well as "my head. It's in a trash bag at home in my closet."
• TV Overmind shares its list of the funniest Daryl quotes, while Digital Spy compiles a list of its candidates for the show's most shocking moments.
• Fansided breaks down the seven "different stages of emotions that we all go through when watching The Walking Dead."
• Dread Central points out eight times that Greg Nicotero has thrown in "little Easter eggs… giving us quick glimpses of walkers that will undoubtedly look quite familiar to those who are big time horror fans."
• TV Overmind reminisces about Andrew Lincoln, who doesn't get "enough credit for his haunting portrayal of Rick, who has gone through a ton in the last four or five years, and he's brought many, many dimensions to the character."
• Moviepilot tries to figure out if Eugene's plan for a cure could actually work.
• Fansided reveals The Walking Dead's possible People's Choice Awards nominees.
• Talking about Season 5 to the Savannah Morning News, Norman Reedus says, "There's new characters, new locations, there's a lot going on… I like the difference. It's so much different than last season in regards to these characters and what's going through our heads."
• Chad L. Coleman will guest star on an episode of Law and Order: SVU that airs Nov. 19, according to Digital Spy.
• toofab recaps "Four Walls and a Roof" with Josh McDermitt, who says the intensity of the church massacre was "at an all-time high. It was one of those things shared between the actors on set that day and it was left at that. This was a bigger turn, further down the rabbit hole for the group."
• For recaps and reviews of Season 5, Episode 3, "Four Walls and a Roof," check out A.V. Club, Big Shiny Robot, Entertainment Weekly, E! Online, HitFix, The Huffington Post, Los Angeles Times, MTV, New York Daily News, Time, TVLine, Vulture, The Wall Street Journal, The Washington Post and Yahoo TV.
To stay up-to-date on all the latest news about The Walking Dead, sign up for the weekly Dead Alert newsletter.
Read More