Press
AMC's The Walking Dead Returns With Highest-Rated Episode In Series History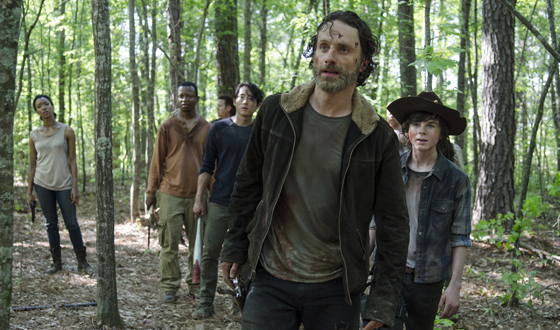 The Season 5 premiere of AMC's The Walking Dead delivered the highest ratings in series history. The episode was watched by 17.3 million viewers and 11 million adults aged 18-49, increases of 7% and 6%, respectively, over the Season 4 premiere, the previous record-holder. The Walking Dead continues to be the No. 1 show on television among adults 18-49. Last night's episode outperformed everything else on television in this key demographic, including Sunday Night Football, by over 2.5 million adults 18-49. With time-shifted playback, the Season 5 premiere should exceed 22 million viewers.
"It's a Dead man's party. Who could ask for more?" said Charlie Collier, AMC president. "Enormous thanks to our friends and executive producers Robert Kirkman, Scott Gimple, Greg Nicotero – who also directed last night's terrific premiere – Gale Anne Hurd, Dave Alpert and Tom Luse and all of their fellow producers, cast and crew for everything they do to make the #1 show on television such a unique and incredible experience for the fans. The Walking Dead is one of those increasingly rare shows today that can command a live audience not significantly cannibalized by time-shifted viewing. Who would have thought that cannibalized television could be curtailed by cannibal-ized television?"
The previous ratings record for an episode of The Walking Dead was 16.1 million total viewers and 10.4 million viewers 18-49 for the season four premiere, live/same day. With seven days of DVR playback included, the Season 4 premiere delivered 21.1 million total viewers and 13.9 million adults 18-49, becoming the most highly-rated episode in cable television history.
Talking Dead, the live aftershow of The Walking Dead, also enjoyed record ratings last night, as its fourth season premiere on Sunday was the highest-rated premiere in series history with 6.9 million viewers and 4.5 million adults aged 18-49. That is an increase over last year's premiere of 34% and 35% respectively. Each week, Talking Dead features host Chris Hardwick and fans, actors, producers and other TV enthusiasts discussing that night's The Walking Dead premiere. The premiere episode featured series' showrunner and executive producer Scott M. Gimple, executive producer Greg Nicotero and Conan O'Brien.
Watch the full episode of the Season 5 premiere on www.amc.com.

The Season 5 premiere of The Walking Dead was the series' most talked about episode ever, dominating social media activity for all of scripted television in 2014 as well as for the night. The premiere telecast garnered a total of 1,320,056 Tweets, making The Walking Dead the No. 1 new season drama premiere for 2014 in terms of Tweets and the No. 1 series premiere of 2014 in terms of Unique Authors. The Walking Dead is also one of the only shows in Twitter history to have had all 10 trending topics in the United States pertain to the show simultaneously. On Facebook, the day of premiere saw more than 7.7 million users driving more than 32.1 million interactions related to The Walking Dead. For the past four weeks, The Walking Dead has had the most engaged Facebook page of any television program, with 15 times the engagement of any other program on premiere day. The Walking Dead Instagram account was also engaged with more than any other scripted series on premiere day. Twitter data from Nielsen and Twitter, Facebook and Instagram data from ListenFirst Media.
AMC recently announced it has renewed The Walking Dead for a sixth season. The network has also ordered a pilot for a potential companion series to The Walking Dead, based on a new story and new characters from Robert Kirkman.
Don't miss an all-new episode of The Walking Dead Sunday at 9/8c on AMC.
Read More