Press
EW Learns Embarrassing Dead Secrets; Gale Anne Hurd Teases Season 5 to Us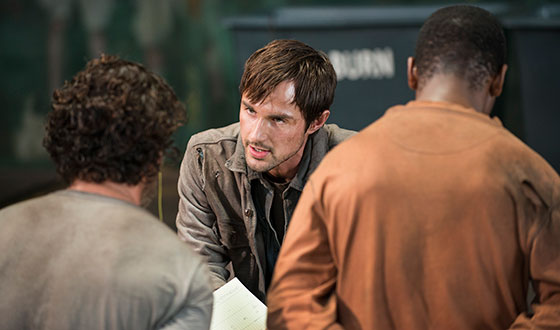 This week, Entertainment Weekly shares some embarrassing secrets from The Walking Dead cast, while Gale Anne Hurd teases Season 5 to Us Weekly. Plus, Greg Nicotero discusses the "putrefied and disgusting" walkers of Season 5. Read on for more:
• Entertainment Weekly gets Andrew Lincoln, Danai Gurira, Lauren Cohan and Steven Yeun to spill some embarrassing secrets about Norman Reedus, Greg Nicotero and Scott Wilson.
• Us Weekly interviews Gale Anne Hurd, who says that Rick "will do whatever it takes to keep his immediate family and extended family alive." [No link]
• Greg Nicotero talks to Moviepilot about Season 5's zombies and how "we wanted to make these things look as putrefied and disgusting as possible."

• Talking to the Los Angeles Register, Michael Cudlitz calls Abraham "a force to be reckoned with and a real big personality. Whether he's right or he's wrong, Abraham is all in. That makes for great choices and awesome consequences."
• Gothamist reports that next month's NY PaleyFest will feature The Walking Dead at a panel with Andrew Lincoln, Norman Reedus, Danai Gurira, Lauren Cohan, Steven Yeun, Melissa McBride, Robert Kirkman, Scott Gimple, Gale Anne Hurd and Greg Nicotero.
• Andrew Lincoln jokes with Entertainment Weekly about Rick's beard, saying, "When I realized the nature of this season, that it was going to be so brutal, I realized we're going to need a bigger beard. So I just grew it. That was my preparation for Season 5."
• Variety highlights a Season 5 photo of Carol, whose "harrowing character arc proved to be one of season four's most compelling — and gut-wrenching — storylines."
• Vulture shows off Rick's official portrait image, noting that our hero "remains dirty. Also, sweaty, determined, pensive, resolute, hairy, lens-flared, and backlit." JoBlo.com features a "shattered" new Season 5 photo that depicts Andrew Lincoln as Rick.
• E! Online has a new Season 5 photo of Norman Reedus "in all his Daryl Dixon, crossbow-slinging glory." Plus, CarterMatt.com has photos of Glenn, Maggie and Michonne that are "dark, moody, atmospheric, and simultaneously hopeful and bleak."
• The Walking Dead is one of TODAY's "must-watch" season premieres, while USA Today considers the show a returning favorite.
• ANDPOP is excited about five returning TV shows, including The Walking Dead, and implores, "Why is everyone trapped in Terminus? Will they ever find a cure for the zombie virus? And please, for the love of God, spare Glenn!!!"
• The (Lincoln, Neb.) JournalStar points out that Emily Kinney is one of several Nebraskans on TV right now.
• ComicBook.com reports that Norman Reedus has released Thanks For All The Niceness, a book of fan artwork.
• ComingSoon.net spotlights a featurette from AMC that discusses the "impressive" zombie stuntwork on The Walking Dead.
• Wetpaint has some deleted scenes from Season 4, noting that "we're always happy to see more TWD content."
• At Indiewire, check out Norman Reedus in a teaser for Stretch, a movie directed by Joe Carnahan.
To stay up-to-date on all the latest news about The Walking Dead, sign up for the weekly Dead Alert newsletter.
Read More