Press
Dead Cast Teases Season 5 in EW; Josh McDermitt On Eugene's Backstory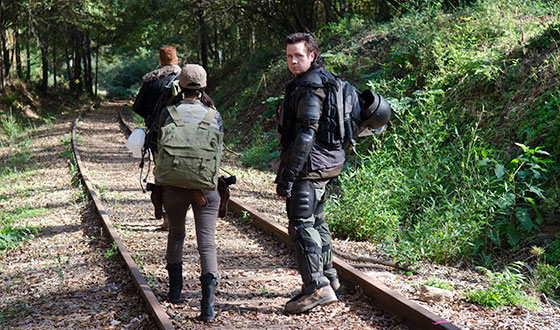 This week, The Walking Dead cast teases where their characters are at in Season 5 to Entertainment Weekly, while Josh McDermitt discusses learning more about Eugene this season. Plus, Robert Kirkman knows how The Walking Dead comic will end. Read on for more:
• Andrew Lincoln shares with Entertainment Weekly that Rick is now "a man who doesn't doubt himself anymore, and he's accepted his brutality as much as his humanity. So I think he's in an incredibly powerful and dangerous place." Danai Gurira and Norman Reedus, as well as Lauren Cohan and Steven Yeun, share their thoughts on their characters too.
• Josh McDermitt, speaking with Wetpaint, reveals, "We're really going to jump into the backstory of Eugene a little more in Season 5."
• Robert Kirkman tells Entertainment Weekly he knows how The Walking Dead comic will end: "I don't know exactly what issue that's going to fall on, per se, and I do have a lot of road laid out before that that is going to take a long time, but I certainly know exactly what I'm building to."

• Moviepilot also interviews Josh McDermitt, who says he's stopped reading The Walking Dead comics because "I can only work with Eugene in the space the writers and producers give me and I didn't want what I read to change how I might play the character."
• Season 5 has a new trailer, and Fansided says, "One thing's for sure, AMC doesn't mess around when it comes to trailers — especially for The Walking Dead." After watching the trailer, Den of Geek says, "The new season of The Walking Dead promises to be as action-packed as ever."
• The Hollywood Reporter showcases a Season 5 photo of Abraham "bracing for what appears to be a brutal and explosive fight with the so-called Termites."
• People.com features another new Season 5 photo that shows Rick "armed and ready for the fight alongside Daryl," while The Huffington Post has a new image of Rick too. TV Guide also shares a Season 5 picture where Rick is holding a rifle, "but he clearly doesn't seem to be in a great spot. But just who or what is Rick hiding from?"
• Daryl also "appears to be creeping up on someone" in another new Season 5 picture at Entertainment Weekly. A first look at "housewife-turned-zombie killer" Carol in Season 5 appears in TheWrap, while Yahoo TV has an exclusive photo of Daryl and Carol together.
• The Huffington Post catches up with Glenn, who could have "a dark future ahead," and TVLine calls Maggie "stunningly – stunningly! – beautiful" in an exclusive photo.
• IGN spotlights Tyreese and Sasha, "who appear to be on the lookout and ready for a fight," in an exclusive photo.
• Andrew Lincoln appears on the Men's Fitness October cover and says, "I turned 40, my bones started aching, and it was the weirdest thing: I became a leading-man action hero." Wetpaint has highlights from the interview.
• According to Wetpaint, Lauren Cohan tells Fan Expo Canada fans, "It's interesting when people say 'Oh your character's changed a lot from year to year.' I think this season there's been more monumental change for most of us."
• David Morrissey talks to Inside Pulse about playing the Governor, observing, "I thought he was a great character to play, very complex, and they gave me enough colors to paint him in a very full way I thought."
• ComicBook.com and Wetpaint share the highlights from AMC's interview with The Walking Dead's Executive Producer David Alpert.
• The Plain Dealer points out there are still several high-quality cable dramas to watch, including The Walking Dead next month.
• A fan of The Walking Dead writes in Moviepilot about visiting many of the show's filming locations.
To stay up-to-date on all the latest news about The Walking Dead, sign up for the weekly Dead Alert newsletter.
Read More