Press
Andrew Lincoln, Norman Reedus Preview Season 5; Steven Yeun On Glenn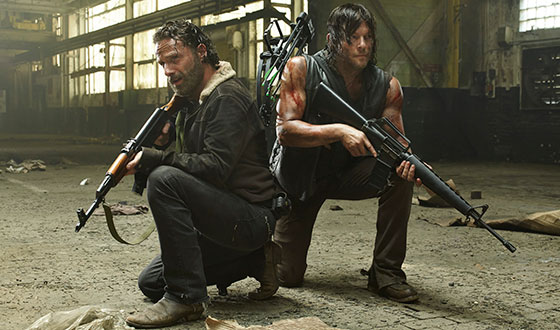 This week, TV Guide asks Andrew Lincoln and Norman Reedus about Season 5, while Steven Yeun tells Entertainment Weekly about Glenn's transformation. Plus, Reedus shows up on the cover of GQ. Read on for more:
• Andrew Lincoln and Norman Reedus talk to TV Guide about Season 5, with Reedus pointing out that "Daryl looks at Rick as the brother that Merle [Michael Rooker] wasn't. To have somebody he looks up to and has a mutual respect for — someone he can trust — is a big deal for Daryl."
• Steven Yeun tells Entertainment Weekly that Glenn is "definitely probably the man he never dreamed he could be at this point."
• Women's Wear Daily reports that Norman Reedus will appear on one of GQ's October covers.

• USA Today previews The Walking Dead's Oct. 12 return, with Andrew Lincoln declaring the survivors "are in a terrible place."
• TV Drama learns from Robert Kirkman that Rick this season is "much more capable, seemingly much more in control of his emotions and of things around him."
• Danai Gurira tells Entertainment Weekly, "The Michonne wig is fantastic. The Michonne wig transforms me. It makes me her. I put it on, I don't see me anymore."
• Bloody Disgusting features a new Season 5 trailer called "Hunted," while The Inquisitr asks, "Are the core Walking Dead cast (Rick's group) members the ones hunting, or being hunted?" ComicBookMovie highlights "a great hero shot of Rick (Andrew Lincoln) and Daryl (Norman Reedus) at the end" of the clip.
• The Hollywood Reporter and the Orange County Register report that Greg Nicotero received an Eyegore Award last week from Robert Kirkman and Chris Hardwick.
• David Morrissey, interviewed by The Telegraph and The Scotsman, tells the latter that The Walking Dead was "a whole new genre for me, but inside this big rollercoaster ride it's all about great character complexity."
To stay up-to-date on all the latest news about The Walking Dead, sign up for the weekly Dead Alert newsletter.
Read More