Press
Robert Kirkman Talks Character Deaths With EW; Gale Anne Hurd Offers Season 5 Spoilers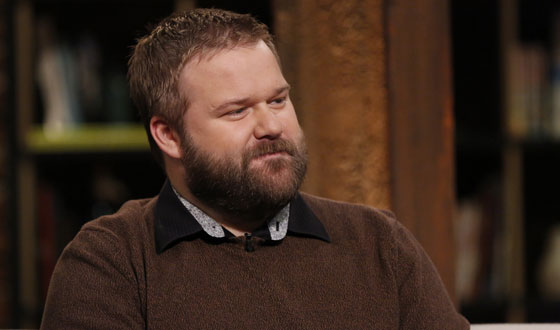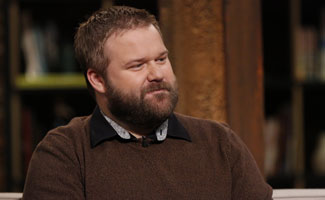 This week, Robert Kirkman tells Entertainment Weekly he knows when each character will die, while Gale Anne Hurd shares some Season 5 details with Zap2it. Plus, Michael Rooker chats with the Los Angeles Times about Merle's popularity. Read on for more:
• Robert Kirkman shares with Entertainment Weekly that he has a good sense of when each character is dying and that killing them off is tough, but, "you know, the story's gotta get done and people gots to die, as I like to say."
• Zap2it gets ten Season 5 spoilers from Gale Anne Hurd, including her preference for Team Daryl ("I do know if there is a zombie apocalypse, I want to be on the back of his bike").
• The Los Angeles Times chats with Michael Rooker, who thinks that Merle is so popular partly because "doing a TV show is like doing a film every week. The impact on your fans and followers is remarkable."

• Michael Rooker tells the Orange County (Calif.) Register that getting killed off The Walking Dead enabled him to play the part of Yondu in Guardians of the Galaxy.
• Greg Nicotero talks to Yahoo TV about Season 5 and how "Rick will be questioning what it is that you have to do to protect the people that you love, what you're willing to do. And it's really about survival."
• Forbes interviews Gale Anne Hurd about working for Roger Corman and how for him, "women did everything. To me there were no closed doors. I just assumed I could do it because he told me I could."
• Zap2it reports that Comic-Con gave The Walking Dead cast an opportunity to reunite with Sarah Wayne Callies and Jon Bernthal, who were at the convention for Into the Storm and Fury, respectively.
• According to Zap2it, Robert Kirkman reveals that Season 5 will likely have more episodes focused on specific characters, saying, "It's something that we've had the freedom to be able to do, so I would expect a little bit more of that here and there as we progress."
• Michael Rooker, speaking with San Antonio's WOAI, says Merle and Daryl's relationship was about "that commitment to family and the commitment to the love of your brother. It's there and it is quite apparent."
• Moviepilot takes a look at how "the walkers on the show have evolved – or should I say decomposed? – since Season 1."
• Dread Central, anticipating the Aug. 26 release of the Season 4 Blu-ray and DVD, reveals one of the special features, a video of walkers during the season that were tributes to famous movie zombies.
• Moviepilot attempts to explain why The Walking Dead is "as popular as it is."
• SundanceTV is airing encores of THE WRITERS' ROOM: The Walking Dead episode on Aug. 26 at 7am, Sep. 1 at 5:30am and Sep. 5 at 7am.
• ComicBook.com points out that several of The Walking Dead actors have also appeared in other comic book roles, most notably Steven Yeun in the upcoming Chew movie.
• Dread Central reports that Funko is making Pocket Pop! Keychains, available this fall, that feature Rick and Daryl.
To stay up-to-date on all the latest news about The Walking Dead, sign up for the weekly Dead Alert newsletter.
Read More