Press
Moviepilot Applauds Michonne; Steven Yeun Wins Drunk History Kudos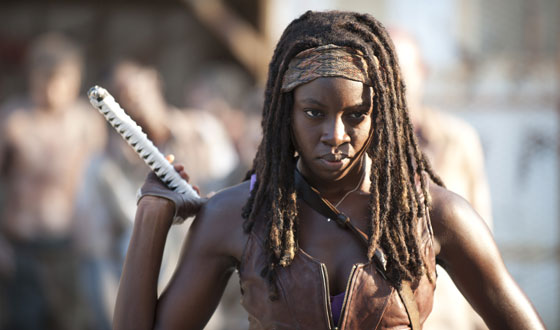 This week, Moviepilot declares that Michonne is The Walking Dead's best character, while Paste compliments Steven Yeun for his role in a recent episode of Drunk History. Plus, Greg Nicotero sits down with Yahoo TV. Read on for more:
• Moviepilot makes the case for why Michonne is The Walking Dead's best character.
• Paste reviews the most recent episode of Drunk History ("arguably one of the series' best"), applauding Steven Yeun, who "has just the right mix of give-it-all scrappiness and expert comic timing to rise to the challenge…"
• Greg Nicotero tells Yahoo TV how much he likes helping to design The Walking Dead DVD cases, noting, "We're constantly trying to find those cool, fun, iconic walker moments when we get a chance to create a cool DVD and keepsake."

• Appearing in Chicago's Splash, Sarah Wayne Callies talks about the aftermath of shooting her last The Walking Dead scene: "I came off set having done the scene and the whole cast was behind the monitors and I didn't know. It was such a painful goodbye but such a beautiful one, because it was really cathartic."
• The Guardian takes a look at how the "constantly evolving soundscapes and artistry of TV music has risen along with the technology" and cites Bear McCreary's soundtrack for The Walking Dead as an example.
• Moviepilot reviews the Season 4 Blu-ray, saying that "these 16 episodes further confirm that there's no better TV horror out there."
• Wetpaint and ComicBook.com share highlights from AMC's interview with Tom Luse, an executive producer on The Walking Dead.
• andPop names Steven Yeun as a potential Asian big screen leading man.
• HorrorSociety.com checks out Michael Rooker's pre-The Walking Dead memorable roles.
To stay up-to-date on all the latest news about The Walking Dead, sign up for the weekly Dead Alert newsletter.
Read More