Press
Dead Appears on EW Cover; Greg Nicotero Teases Season 5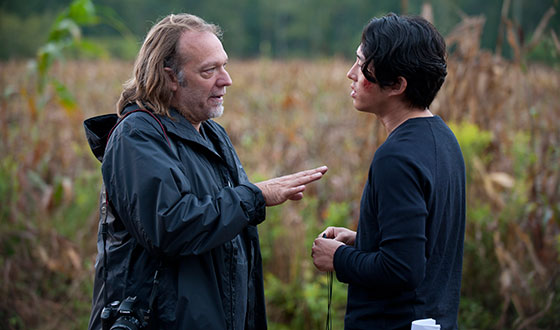 This week, The Walking Dead shows up on the cover of Entertainment Weekly, while Greg Nicotero teases Season 5 to The Huffington Post, Access Hollywood and Cinefantastique. Plus, Uproxx says the new teaser trailer for Season 5 is "sufficiently frightening."

• Entertainment Weekly puts The Walking Dead on four collectible covers this week and learns from Robert Kirkman that "By minute two or three of our season premiere, I think the vast majority of our questions have been answered, and five or six more have been presented…"
• The Huffington Post interviews Greg Nicotero, who teases, "We hit certain milestones from the comic book that are tailored to our show and our characters, and certain storylines that we see in the comic book we will see in various places through Season 5." Access Hollywood also talks to Greg Nicotero, who says that he kept one of Hershel's heads and gave another one to Scott Wilson.
• Bloody Disgusting spotlights a new 10-second teaser for Season 5. ComicBook.com thinks "it makes things look pretty threatening for Rick Grimes and company," while Uproxx calls it "sufficiently frightening."

• CarterMatt.com checks out yet another new Season 5 teaser, noting that "it revolves around the bizarre sort of 'family' that has come together for Andrew Lincoln and company."
• ComicBook.com showcases a Season 5 teaser, which features "Tyreese alone and watching walkers close in on his location."
• The Hollywood Reporter's nominations for the Alternative Emmys include The Walking Dead ("Most underrated drama"), Andrew Lincoln ("his exclusion is most puzzling"), Norman Reedus ("Magnetic, nuanced") and Melissa McBride.
• Greg Nicotero talks to Cinefantastique, which says that his work has "brought the fantastic, the grotesque, and the sometimes-just-plain-realistic to a dazzling kaleidoscope of film and TV projects."
• Moviepilot chats with Denise Crosby, who describes Mary as a "real determined, soulful woman."
• DVD Talk reviews the Season 4 Blu-ray and calls it "absolutely to die for."
• Dread Central highlights the top moments from Season 4, which "brought new characters, expanded some old favorites, evoked tears and cheers, and of course had its share of zombie action."
• According to The Hollywood Reporter, one of the Season 4 DVD/Blu-ray's bonus features is commentary from Gale Anne Hurd, Scott Gimple, Denise Huth, Andrew Lincoln and David Morrissey about Hershel's death.
• TVLine highlights a Season 4 deleted scene featuring Carol, Tyreese, Lizzie and Mika that appears on the Season 4 DVD. Nuke the Fridge has another deleted scene with Rick and Carl.
• AMC interviews The Walking Dead's stunt coordinator, Monty Simons, and Wetpaint provides the highlights.
• Den of Geek interviews Sarah Wayne Callies, who speaks about Lori's death: "She leaves in the way I always knew her – as a woman who would do anything to keep her family safe."
• Sarah Wayne Callies tells IGN that she doesn't mind some fans' hostile reaction to Lori, saying, "I think it's really honest. I come from theater…there's something about having a relationship with your audience that feels very honest as an actor. I don't need people to like me."
To stay up-to-date on all the latest news about The Walking Dead, sign up for the weekly Dead Alert newsletter.
Read More