Press
Walking Dead Thrills Comic-Con Fans; Scott Gimple Teases Season 5 With TV Guide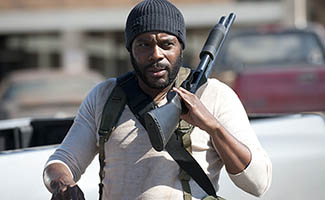 This week, The Walking Dead cast and crew takes over Comic-Con, while Scott Gimple talks to TV Guide about what to expect in the new season. Plus, Chad L. Coleman discusses Lizzie's death with TheWrap. Read on for more:
• USA Today has an account of The Walking Dead's Comic-Con panel, as well as the Season 5 trailer shown there, and reports that Scott Gimple says of the show, "Everyone alive has done unspeakable things…Who do they become?" ABC News, Digital Spy (which shares the news of Seth Gilliam joining the show to play Father Gabriel) and HitFix live-blog the event, while The Hollywood Reporter was also there. Flickering Myth has a video of the entire panel.
• Scott Gimple tells TV Guide that the survivors are "going to be facing some pretty heavy stuff that is going to define who they are as people moving forward." [No Link] Wetpaint has more details from the interview.
• Chad L. Coleman, chatting with TheWrap, discusses how Lizzie's death "beautifully captured how this crazy world twisted this little girl into something that, probably, is the most dangerous person in that world."

• Entertainment Weekly interviews Norman Reedus about attempting to take in Comic-Con incognito with Steven Yeun — and what it's like to walk the floor with Robert Kirkman ("the God of Comic-Con").
• The New York Daily News gets the lowdown on Season 5 from the cast and crew at a Comic-Con roundtable, including the tidbit from Robert Kirkman that the survivors are now "a very dangerous, very different group of people."
• Entertainment Weekly finds out from Denise Huth that "every single thing in the first episode is a spoiler."
• Andrew Lincoln talks to Entertainment Weekly about character deaths as an accepted part of the show and notes, "It won't be without its share of death this season."
• TheWrap spotlights an infographic detailing which characters were discussed the most last season, according to TVShow Time.
• Members of The Walking Dead cast tell Entertainment Weekly that Season 5 will have a Three's Company vibe.
• TVLine discovers at Comic-Con that the Season 5 premiere launches into some of the show's "most intense six minutes" ever, and Andrew Lincoln does a Brooklyn accent.
• Norman Reedus marvels to USA Today that Greg Nicotero is "one of the most influential keys to the success of the show."
• Emily Kinney tells Zap2it she understands why some viewers want Daryl and Beth to get together, saying, "People are longing for something more than just, like, death and destruction, you know?"
• Michael Cudlitz, interviewed by USA Today, celebrates the show's fan base, saying, "They are fantastic fans. They're very vocal and expressive in their joy – and disappointment, at times."
• According to ComicBook.com, Scott Gimple talks about the weirdness of killing a character and then seeing the actor: "I have dinner with Scott [Wilson] on occasion and sometimes as we're eating I wonder, 'Is he thinking that I killed him?' As we're eating? It still weighs on me."
• The Walking Dead's casting directors talk to E! Online about choosing Norman Reedus to play Daryl because "there was such soulfulness in his eyes. And he understood the pain of that character. We went with it."
• Casting Director Sharon Bialy also tells NorthJersey.com that she cast Andrew Lincoln as Rick, even though he's English, declaring, "We're very proud of that casting, because he was perfect."
• Interviewed by Zap2it, Michael Rooker reveals how Yondu, his character in Guardians of the Galaxy, was inspired by Merle.
• Michael Rooker defends Merle to TheWrap, declaring, "Merle was a pretty straight shooter. If you like someone, let 'em know you like 'em. If you don't, smack 'em in the head."
• Screen Rant talks to Andrew Lincoln and Danai Gurira and gets a sense of where their characters are as Season 5 begins.
• Big Pictures Big Sound has details (and photos) of a costume competition that Norman Reedus and Greg Nicotero judged during Comic-Con.
• Den of Geek defends Sarah Wayne Callies' Lori, observing, "Sure she made a few decisions she reneged on, but everyone living in the world of The Walking Dead is flawed and faced with impossible choices."
• Norman Reedus, speaking with Mashable, calls the Season 5 premiere "such a fast-paced, epic episode."
• ComicBook.com spotlights a new statue that depicts Daryl with two wolves, a nod to Daryl's identity as "the rebel, the survivor, the lone wolf."
• Comic Book Resources showcases the trailer for Air, a film to be released next spring that stars Norman Reedus and is produced by Robert Kirkman. Comic Book Resources has more on the movie from a Comic-Con panel with Kirkman and Reedus.
• TheWrap reports that Gale Anne Hurd's production company is teaming up with Warren Ellis to develop his first original TV show.
To stay up-to-date on all the latest news about The Walking Dead, sign up for the weekly Dead Alert newsletter.
Read More