The Walking Dead 2014 Comic-Con Banner Revealed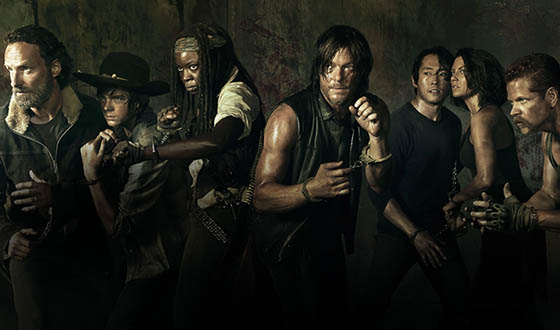 Today AMC revealed The Walking Dead Season 5 banner poster that will be displayed at this year's San Diego Comic-Con. The poster depicts Rick Grimes (Andrew Lincoln), Carl Grimes (Chandler Riggs), Michonne (Danai Gurira), Daryl Dixon (Norman Reedus), Glenn Rhee (Steven Yeun), Maggie Greene (Lauren Cohan) and Abraham Ford (Michael Cudlitz) handcuffed in the Terminus train car, echoing the survivors' predicament in the Season 4 Finale cliffhanger. Click here or on the image above to see a larger version of the banner.
The Walking Dead Comic Con panel will take place Friday, July 25 at 12:20 pm PDT in Hall H.
The Walking Dead returns this October on AMC. Check back at www.amc.com all this week for The Walking Dead updates from San Diego Comic-Con 2014.
Photo Credit: Frank Ockenfels 3/AMC
Read More