Press
Robert Kirkman On Season 5 with EW; Norman Reedus Says "Grab Your Tissues" to HuffPost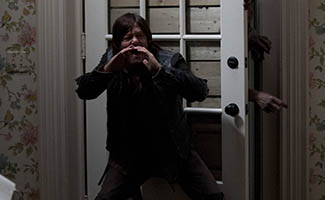 This week, Robert Kirkman talks with Entertainment Weekly about the focus of the premiere episode, while Norman Reedus sits down with The Huffington Post to talk Daryl's evolution and more. Plus, Steven Yeun addresses rumors. Read on for more:
• Robert Kirkman teases Season 5 with Entertainment Weekly, talking new additions to the cast, the main focus of the premiere episode, and how "There are a lot of big revelations that haven't really come out that I think people are going to be startled by." KDrama Stars and Seriable also report on the interview.
• Huffington Post talks with Norman Reedus about his "character specific episode" in Season 5, his bromance with Andrew Lincoln, and tells viewers to "Grab your tissues" during Season 5. Wet Paint also has the interview.
• Steven Yeun addresses rumors about Glenn's possible death on Wet Paint, but Robert Kirkman says "Keep those rumors flying!"

• Construction on a new set might provide a big hint at what storyline Season 5 could follow, and Giant Freakin Robot has the details. Times-Herald reports on how Georgia residents are buzzing about the new set amidst their homes.
• Emily Kinney spoke about her new EP, "Expired Love," and her role on The Walking Dead on the radio show One with the Power Hour, and Examiner speculates what will happen to Beth in Season 5.
• Wet Paint has compiled all of the photos released for Season 5 so far, including new photos featuring Rick, Carol and Judith.
• The new key art for Season 5 debuted at Comic-Con this Monday and Entertainment Weekly and Yahoo! TV analyze what the poster's imagery could mean for our characters in the upcoming season. Access Hollywood, Giant Freakin Robot, KDrama Stars, IC Places, Rama's Screen, Starcasm, The Epoch Times, and Zap2It also report on the new poster.
• Movie Pilot describes the Caryl vs. Bethyl debate for those uninitiated to the fandom and makes the case for each of Daryl's potential romantic entanglements.
• There's a new (unconfirmed) rumor that Beth may have a new love interest this season, and International Business Times, Ecumenical News, and HNGN speculate on the buzz around which young actor it could be.
• Want to chow down at The Walking Dead BBQ at Comic-Con this year? The SDCC Blog tells you exactly how to increase your chances of winning a spot.
• In this exclusive clip from CraveOnline, Robert Kirkman and Greg Nicotero talk about adapting iconic scenes from the comics to the show.
• The Impact News goes back through the series to take a deeper look at the evolving tone and feel of the The Walking Dead and speculates about the emotional and thematic direction of the show in the new season.
• Are you at San Diego Comic-Con? USA Today lists the 5 things to watch out for while you're there. Plus, Norman Reedus says, "I love Comic-Con. Those are our people."
• Movie Pilot sat down with Michael Rooker and discussed the possibility of Merle's return.
• Steven Yeun is writing and producing his own projects to create more roles for Asian actors, according to Design & Trend.
• VC Post has an image that may prove Beth Greene (Emily Kinney) is back on set for Season 5.
• Breathe Cast recaps some of the fan reactions to the photo released last week of Daryl bound and gagged.
• The Walking Dead Blu-Ray/DVD box set comes out August 26, 2014 and Best Movies Ever is excited for the exclusive content, saying "This is one you definitely want to preorder."
• Dusty Cartridges and Daily Dead have the trailer for the new video game The Walking Dead: No Man's Land, a first-of-its-kind video game developed by Next Games.
To stay up-to-date on all the latest news about The Walking Dead, sign up for the weekly Dead Alert newsletter.
Read More