Press
Greg Nicotero's Satellite Award Kills Zombies; Steven Yeun Chats With Splash Chicago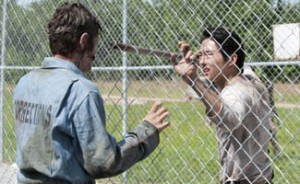 This week, Rick and Daryl use Greg Nicotero's Satellite Award to kill zombies, while Steven Yeun talks Season 5 with Splash Chicago. Plus, FanSided says The Walking Dead "gets everything right." Read on for more:
• Greg Nicotero's Satellite Award acceptance speech video features Rick, Daryl and Abraham using the statue as a weapon, and ComicBook.com has the video.
• Splash Chicago interviews Steven Yeun, who says of Season 5, "We're definitely going for it. We're coming back with bruises and cuts and dings."
• FanSided declares that The Walking Dead "gets everything right," calling the show a "well made and handled series."

• Variety reports that The Walking Dead cast and crew will make its annual appearance at San Diego Comic-Con on July 25.
• Glide interviews Ian Anderson of British rock band Jethro Tull, who included an homage to Rick, played by his son-in-law Andrew Lincoln, in a lyric from his latest album.
• Wetpaint showcases and deconstructs a new "intriguing" 30-second Season 5 teaser.
• SpoilerTV's belated review of the Season 4 finale calls the episode "a culmination of the brilliant acting, writing, and effects that we've come to expect from the show."
• Wetpaint speculates which survivors will engineer an escape from the Terminus train car — and ranks everyone in "order of badassness."
• Robert Kirkman speaks with Business Insider about his creative process and how he balances his many projects.
• SundanceTV's The Writer's Room features Michael Showalter and his writing partner, Christina Lee, texting about The Walking Dead.
• 411 Mania names The Walking Dead one of the top five horror and sci-fi TV shows, noting that the drama is "about to enter its fifth season with no signs of slowing down."
• WhatCulture checks out the best songs heard in The Walking Dead, observing that "it's easy to overlook how effectively the show has licensed songs to accompany composer Bear McCreary's atmospheric score."
• Comic Book Resources asserts that Daryl is "arguably one of the most popular characters currently on television, and if [Robert] Kirkman were to ever change his mind and pull the trigger, he could potentially be the most popular character in comics."
• Metro reports that The Walking Dead is one of the TV shows most likely to be ruined by spoilers on social media.
• MTV takes a look at The Walking Dead brick building sets, which will be available in the fall and feature sets including the Governor's room ("complete with light up aquariums and tiny, floating zombie heads") and a deluxe set with the prison tower and gate.
• Catch Lauren Cohan in a clip at the Boston Herald from her new movie, Reach Me.
To stay up-to-date on all the latest news about The Walking Dead, sign up for the weekly Dead Alert newsletter.
Read More