Press
Daryl in Distress in EW; E! Online Talks Season 5 With Steven Yeun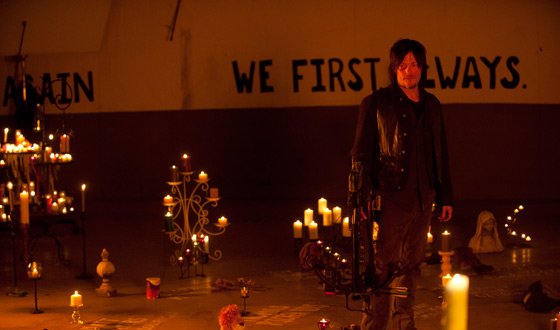 This week, Entertainment Weekly has a photo of Daryl in trouble, while Steven Yeun has a chat with E! Online about Season 5. Plus, Wetpaint recaps AMC's Inside The Walking Dead. Read on for more:
• Entertainment Weekly features an exclusive photo of "a bloodied and bruised Daryl, who has also been gagged and bound."
• Steven Yeun speaks with E! Online about the group's experience at Terminus, saying, "I can't give too much away… I will say the group is evolving, the group is not a group to be messed with anymore."
• Wetpaint has a recap of AMC's documentary, Inside The Walking Dead, which includes the revelation that Norman Reedus will "probably, like, set my trailer on fire" if Daryl is killed off. ComicBook.com also has an account of the documentary. Indiewire has a video of the entire 43-minute documentary.

• According to Wetpaint, Steven Yeun tells Chris Hardwick that Glenn isn't a follower but "his own leader. I think at this point he's found, through some very dire circumstances, what he was looking for, which is Maggie, and that hope revitalizes him to know that he's his own man."
• Steven Yeun tells Celebuzz that Hollywood's most beautiful eyes belong to Melissa McBride, saying, "Check her eyes out. Study it."
• Blastr shares some of what it learned from Scott Gimple on Talking Dead's special summer edition, such as Negan's potential introduction.
• TV Overmind is eager for Negan's appearance, noting that the "name alone makes fans of the comic and source material shudder[sic]."
• Vox offers 13 ways to cope until The Walking Dead returns. One solution? Dead Yourself.
• Crave Online has a feature from the Season 4 DVD and Blu-ray called "Drawing Inspiration" where Robert Kirkman and Greg Nicotero talk about using the comic book as inspiration for "After."
• Moviepilot takes a look at the moral questions posed by The Walking Dead and how they're used "as a means for exploring the diverse ways we humans react to terror."
• ComicBook.com spotlights the limited edition The Walking Dead guitars with images of characters from the show.
• Moviepilot showcases a new Hershel figure that's both headed and headless — and available at San Diego Comic-Con.
To stay up-to-date on all the latest news about The Walking Dead, sign up for the weekly Dead Alert newsletter.
Read More