Press
The Walking Dead Is One of Twitter's Hottest Shows, Gets '80s Theme Song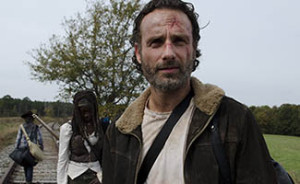 This week, The Walking Dead ranks high on Nielsen's Twitter ratings, while the series gets an '80's-style theme song. Plus, CarterMatt thinks the show deserves an Emmy nomination. Read on for more:
• The Walking Dead was the second-hottest TV show this season, according to Nielsen's Twitter ratings, The Wall Street Journal reports.
• On SyFy's The Wil Wheaton Project, Chris Hardwick helps introduce an '80s-style theme song for The Walking Dead.
• CarterMatt calls The Walking Dead worthy of a best drama Emmy nomination this year, citing "eight of the best episodes that the series has ever had."
• Mika and Lizzie's death were two of the most shocking on TV this season, according to Hypable.
• CarterMatt's Saturday Night Live host wishlist includes Norman Reedus because, "with all the possible Daryl spoofs, we could find quite a few opportunities for laughs in here."
• Steven Yeun will appear in Season 2 of Comedy Central's Drunk History, according to A.V. Club.
• Lew Temple talks to Classicalite about what Axel had to offer the survivors: " I think he had a lot to offer in friendship and comradeship. I think he was a handy guy who could have helped them out quite a bit."
• The (Allentown, Pa.) Morning Call interviews Theodus Crane, who talks about playing Big Tiny and how his character was "too nice for what was going on. The zombie apocalypse was too much for him."
• Action Figure Fury has a preview of a new 10″ Rick Grimes figure that will be released in November.
• WhatCulture takes a look at the "surprising" early roles of some of The Walking Dead's cast.
• Wetpaint has highlights from AMC's interview with Denise Huth from The Walking Dead set.
To stay up-to-date on all the latest news about The Walking Dead, sign up for the weekly Dead Alert newsletter.
Read More