Press
Robert Kirkman Teases "Intense" Season 5 With THR; Norman Reedus Talks Daryl & Carol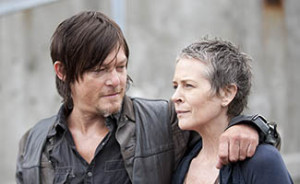 This week, The Hollywood Reporter gets an idea of Season 5 from Robert Kirkman, while Gold Derby asks Norman Reedus about Daryl and Carol. Plus, Danai Gurira is one of TV Guide's greatest TV action heroes. Read on for more:
• Robert Kirkman teases Season 5 to The Hollywood Reporter, saying, "We're definitely going to hit the ground running for season five and we really don't let up very quickly at all. It's going to be a pretty fast-paced, intense season."
• Gold Derby chats with Norman Reedus about Daryl's relationship with Carol, how "he recognizes a lot of himself in her. And I think he would do anything to keep her alive and keep her safe."
• TV Guide selects Danai Gurira's Michonne — who "slices through the undead with vengeful resolve as she helps her ragtag group of survivors fight to stay alive" — as one of TV's 24 greatest action heroes.
• The Hollywood Reporter thinks Norman Reedus ("This must happen") and Danai Gurira ("So deserving") should nab Emmy nominations.
• The scene in Season 4's "The Grove" where Carol killed Lizzie ("one of the drama's most shocking moments) is No. 20 on Entertainment Weekly's list of this season's top 50 TV scenes.
• Greg Nicotero talks to The Hollywood Reporter about the challenges of filming a sequence in the Season 4 premiere that "provided every facet of what makes the show great in a five-minute span."
• Ahead of the World Cup, Steven Yeun narrates a video spot about Argentina's Lionel Messi, according to Wetpaint.
• Talking to Gold Derby about The Walking Dead, Scott Wilson says, "I've been doing this a long time and to be involved in something that was so much fun at this point in my career is really rewarding."
• According to Deadline, The Walking Dead is the No. 1 show for women.
• Michael Rooker tells The (Colorado Springs, Colo.) Gazette that Merle got "a very cool exit."
• Boston.com dispatches a reporter to cover Day 1 and Day 2 of Walker Stalker Con, which features appearances from several cast members, past and present, of The Walking Dead.
• The Writers' Room: The Walking Dead, Smallville & other comics is still available for free on the SundanceTV website until June 29.
• Latin Post checks out AMC's interview with Producer Jolly Dale, who reveals that the Season 5 premiere will be "by far the biggest episode that we've ever done."
To stay up-to-date on all the latest news about The Walking Dead, sign up for the weekly Dead Alert newsletter.
Read More