Press
Norman Reedus Tells EW Season 5 is "Dynamic"; Andrew Lincoln Talks Character Deaths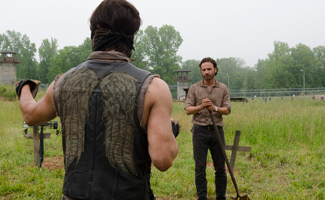 This week, Norman Reedus tells Entertainment Weekly that Season 5 is "dynamic," while Andrew Lincoln talks to GoldDerby about dealing with character deaths. Plus, Rolling Stone names Reedus one of its nerd sex symbols. Read on for more:
• Norman Reedus talks to Entertainment Weekly about filming Season 5, how "everyone's really bringing it. It's going great. It's so dynamic because it's so fast-paced and so complicated. It's great to be back."
• During a Gold Derby web chat, Andrew Lincoln says of The Walking Dead's many deaths that "I probably didn't anticipate how painful it would be making these great friendships with people and then invariably losing them."
• Norman Reedus is anointed as one of Rolling Stone's nerd sex symbols, since Daryl's "growing loyalty to the group (save for a few expected hiccups) and tough-guy-with-a heart-of-gold persona has made him one of the most beloved characters."
• Comic Book Resources reports that fans can watch a Season 4 marathon during the July 4 weekend and catch a couple of documentaries, as well as a Talking Dead special.
• USA Today has a clip of Steven Yeun in I Origins, which hits theaters on Jul. 18.
• SundanceTV interviews J.D. Evermore, who played Harley, one of the gang of Claimers.
• Deadline, writing about the prevalence of gore on TV, cites Rick — who "went full Tyson and tore out a man's throat with his bare teeth" in the Season 4 finale — as an example.
• According to Deadline, MyNetworkTV will air two hours of reruns of The Walking Dead on Wednesday nights, starting in the fall.
To stay up-to-date on all the latest news about The Walking Dead, sign up for the weekly Dead Alert newsletter.
Read More