Press
Norman Reedus Joins Actor Roundtables; THR Says Season 4 Saw 28 Million Viewers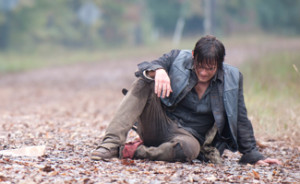 This week, the Los Angeles Times and Variety host Norman Reedus at their acting roundtables, while Season 4 was watched by 28 million people. Plus, TV Guide reports that The Walking Dead is No. 1 with 18-to-49 viewers. Read on for more:
• Norman Reedus tells the Los Angeles Times how, on TV shows like The Walking Dead, you "get this opportunity to sort of drop these little seeds behind you as you do other things, and sometimes those seeds turn into trees and storylines and all these other things." The L.A. Times has the full transcript of the conversation.
• As part of a supporting actor Variety roundtable, Norman Reedus says the hardest scene he's had to shoot on The Walking Dead is the one where he had to kill Merle.
• According to The Hollywood Reporter, Season 4 racked up a little over 28 million viewers, including replays, on-demand and TV Everywhere views.
• During the 2013-2014 season, TV Guide reports that The Walking Dead "annihilates everything" in the all-important demographic of 18-to-49 year-olds.
• CarterMatt thinks Melissa McBride should get a best supporting actress Emmy nomination, noting that she was "the star of 'The Grove,' which by our own opinion is the best episode that the series has ever done."
• Meanwhile, CarterMatt nominates Chandler Riggs for a best supporting actor Emmy nod because "the strength and layers that he put into this performance this year was outstanding."
• During a conversation with Gold Derby, Danai Gurira says it's a challenge playing Michonne "because I'm very demonstrative, and I wear my heart completely on my sleeve, so it was really an interesting mind to live in, the sort of mind who's willing to be aggressive when she needs to very quickly, but is very unwilling to crack a smile."
• Gale Anne Hurd talks to Variety about casting Andrew Lincoln and not knowing beforehand that he was British.
• People learns from a modest Norman Reedus that he's "more of a klutz" than the crossbow-wielding battler he plays on The Walking Dead.
• Michael Rooker tells the (Philadelphia) Daily News that Merle "made an indelible mark on this series. No matter how many seasons this series goes, I think everyone will remember Merle Dixon."
• Den of Geek really doesn't want Daryl to ever die, saying "his evolution from aggressive outsider to group leader has made him invaluable." It also wants Rick to keep surviving, calling him "the heart of the show since day one."
• Chandler Riggs says his toughest scene on the show was in Season 3's "Killer Within," when Lori died and Carl had to shoot her before she became a zombie, according to Wetpaint.
• Also, The Buffalo News interviews Chandler Riggs, who discusses his favorite scene to shoot and who reveals that Norman Reedus is the set's resident jokester.
• TV Overmind shares "10 things you didn't know about The Walking Dead."
• Moviepilot takes a look at the early roles of some of The Walking Dead's stars.
• Latin Post checks out AMC's interview with Greg Nicotero.
To stay up-to-date on all the latest news about The Walking Dead, sign up for the weekly Dead Alert newsletter.
Read More