Press
Scott Gimple Joins LA Times Roundtable; Robert Kirkman Teases Season 5 to EW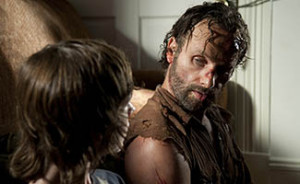 This week, Scott Gimple participates in a Los Angeles Times showrunners roundtable, while Robert Kirkman talks a little bit about Season 5 to Entertainment Weekly. Plus, President Bill Clinton alludes to The Walking Dead in a speech. Read on for more:
• At a Los Angeles Times showrunners roundtable, Scott Gimple compares TV to "a marriage that you are entering into with the audience" and a movie to "an awesome date."
• Robert Kirkman talks to Entertainment Weekly about Season 5, teasing, "We're doing new and different and crazy and exciting things and now I think the atmosphere is that we can't wait until we can start sharing things with people."
• According to the Los Angeles Times, Bill Clinton thinks the Republican Party is raising questions about Hillary Rodham Clinton's stamina by accusing her of "auditioning for a part on The Walking Dead."
• The Hollywood Reporter highlights The Walking Dead's Emmy campaign, a set of posters that focus on Season 4's "character-driven — and often heart-wrenching — moments."
• Norman Reedus has been named "Biggest Ass Kicker" by Spike TV as part of its annual Guys Choice Awards, says Wetpaint — which exhorts readers to vote for Reedus' Daryl and Lauren Cohan's Maggie in the "Most Dangerous Man" and "Jean-Claude Gahd Dam" categories, respectively.
• Take SundanceTV's quiz to see how well you recognize quotes from The Walking Dead.
• Emily Kinney shows up on the cover of Status Magazine.
• According to Shockya, The Walking Dead: The Complete Fourth Season will be released on Blu-ray and DVD on Aug. 26.
• Action Figure Fury reports that McFarlane Toys will release figures of Michonne and the RV Walker from Season 2.
• The Walking Dead Interviews Wiki speaks with Luke Donaldson about Norman Reedus joking around with him on the set.
To stay up-to-date on all the latest news about The Walking Dead, sign up for the weekly Dead Alert newsletter.
Read More