Press
Norman Reedus Tells EW About Season 5 Insanity; Scott Wilson Answers Fan Twitter Questions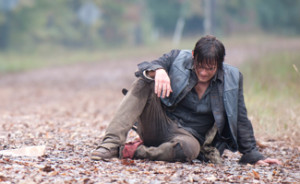 This week, Norman Reedus teases Season 5 to Entertainment Weekly, while Scott Wilson takes to Twitter to answer fan questions. Plus, Greg Nicotero talks directing with Zap2it and SundanceTV. Read on for more:
• Entertainment Weekly learns from Norman Reedus that Season 5 is expected to be "completely insane" and that the "storyline they're throwing me is a thousand miles an hour."
• Scott Wilson took over Gale Anne Hurd's Valhalla Entertainment Twitter feed to answer fan questions and concluded, "I want you all to know I was blessed to be on #TWD and I will continue to be a fan." Zap2it compiles Wilson's best responses.
• Greg Nicotero tells Zap2it why Season 4, Episode 9, "After" is "probably the best episode I've ever directed" and why he's "really proud" of directing Season 4, Episode 15, "Us." Nicotero also talks to SundanceTV about directing The Walking Dead's webisodes, which "all feel like our world but just different enough to keep them fresh."
• TV Guide checks out SundanceTV's The Writers' Room: The Walking Dead, Smallville & other comics and learns that Robert Kirkman once got this note from NBC: "I love this, but does it have to have zombies in it?" The full episode is available online at SundanceTV's website, as well as a recap.
• ComicBook.com's preview of SundanceTV's The Writers' Room:The Walking Dead, Smallville & other comics notes that Robert Kirkman's "favorite element" is Daryl.
• The Hollywood Reporter speaks with Lee DeWyze about getting his "Blackbird Song" heard in Season 4, Episode 9, "After."
• The Calgary Herald learns from Michael Rooker that The Walking Dead's cast members would be unlikely to survive a zombie apocalypse because "we are whiny, whiny actors for God's sake! I would rather be in my trailer having a cappuccino."
• Speaking with Minneapolis and St. Paul's KSTP, Michael Rooker says, "Merle Dixon was popular during the show, and I'm more popular now even after my death in the show. So it's kind of crazy. I'm digging it."
• SundanceTV's list of TV's top 10 supernatural series is topped by The Walking Dead, which "upped the ante for horror on television by making no character immune to grisly death."
• What Culture learned six things from the Season 4 finale.
• Wetpaint lists its favorite Beth scenes from Season 4.
• Moviepilot examines the evolution of Rick by looking at some favorite "Rick moments."
• Meyrick Murphy (Meghan) tells The Walking Dead Interviews Wiki that she'd be a mix of Glenn and Beth in a zombie apocalypse because "I would fight and think things through like Glenn, but I still would be a child inside, like Beth."
• Greg Nicotero is one of Moviepilot's movie makeup greats.
• Journal of Commerce interviews John Fore, the man responsible for constructing The Walking Dead's elaborate sets — including the prison — for the last four years.
• According to Home Media Magazine, The Walking Dead: The Complete Third Season won two Home Media Magazine Awards — honoring the best DVDs and Blu-rays discs of 2013 — for TV on Disc of the Year and Best Packaging (for the special edition with the Governor's walker-head fish tanks).
To stay up-to-date on all the latest news about The Walking Dead, sign up for the weekly Dead Alert newsletter.
Read More