Press
EW Pays Tribute to Lizzie; Josh McDermitt Appears on Mad Men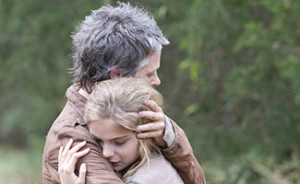 This week, Lizzie's passing is memorialized by Entertainment Weekly, while Josh McDermitt shows up on this week's episode of Mad Men. Plus, "Rick" and Breaking Bad's "Walt" face off in an epic rap battle. Read on for more:
• Entertainment Weekly's tribute to those TV characters who were lost during the 2013-14 season includes Lizzie, "a well-intentioned tween whose pastimes included stabbing her sister and almost smothering a baby." (No link)
• Wetpaint highlights Josh McDermitt's turn on Mad Men and observes, "Turns out, Eugene cleans up well!"
• HitFix showcases the epic rap battle between Rick and Breaking Bad's Walt and hopes "this might could maybe happen on the show."
• The Guardian explores the best musical surprises from TV dramas, including The Ink Spots' "Maybe" in Season 4's "The Grove."
• Declaring that it "takes a village to create a mullet this beautiful," Wetpaint details the process of Josh McDermitt morphing back into Eugene.
• According to The Hollywood Reporter, Season 4 pulled in record audiences — nearly 25 million viewers across 14 markets — in Europe.
• IronE Singleton tells Saskatchewan's News Talk 650 CKOM that he's "like T-Dog, but I'd like to survive like Daryl, probably, because the fans say Daryl is going to be the last one standing."
• Mediabistro reports that the issue of Atlanta that featured a Norman Reedus cover won the American Society of Magazine Editors Reader's Choice Cover of the Year.
To stay up-to-date on all the latest news about The Walking Dead, sign up for the weekly Dead Alert newsletter.
Read More