Press
Critics' Choice TV Award Nod for Melissa McBride; Bear McCreary Kidnapped by Zombies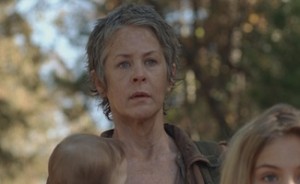 This week, Melissa McBride gets a Critics' Choice TV Award nomination, while Variety reports on zombies kidnapping Bear McCreary during a concert. Plus, Us finds out how Steven Yeun, Lauren Cohan and Danai Gurira stay in shape. Read on for more:
• Melissa McBride is honored with a Critics' Choice Television Award nomination in the category of best supporting actress in a drama series. CarterMatt, reveling in McBride's recognition, declares, "Look at the flowers, and then realize how much Melissa killed it as Carol in this past season." And Wetpaint cheers, "Slay, Carol, slay!"
• Variety reports that a concert celebrating music composed for TV featured zombies climbing on stage and capturing Bear McCreary.
• Us asks Steven Yeun, Lauren Cohan and Danai Gurira about their secrets for staying in zombie-fighting shape. (No link)

• Zap2it celebrates Melissa McBride's birthday by highlighting her best moments on The Walking Dead and calling her "an MVP of the series ever since its premiere."
• According to The Hollywood Reporter, Steven Yeun is set to be the executive producer and star of The Aquariums of Pyongyang.
• Lauren Cohan is named to Maxim's Hot 100 list, which says, "Not only is this chick easy on the eyes, she's badass, too!"
• The Los Angeles Times has excerpts from its panel discussion with showrunners, including Scott Gimple (who says, "Nobody wants to see a baby eaten on television").
• According to Wetpaint, The Walking Dead's fans have created "A Grassroots Fan Campaign" to get an Emmy for Melissa McBride.
• Michael Rooker tells The Huffington Post that he's been recognized so much more since The Walking Dead, including kids coming up to him with little Merle hands they've made.
• Wetpaint checks out AMC's Dispatches from the Set with Gale Anne Hurd.
To stay up-to-date on all the latest news about The Walking Dead, sign up for the weekly Dead Alert newsletter.
Read More