Press
TV Guide Touts Season 4 Finale; Andrew Lincoln Talks to THR About Biting Into Necks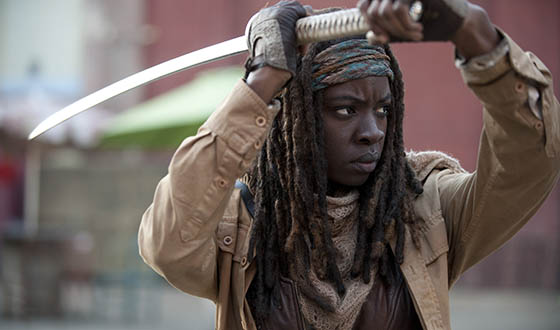 This week, the Season 4 finale is deemed one of the week's top moments by TV Guide, while The Hollywood Reporter gets Andrew Lincoln's take on what it's like biting into someone's neck. Plus, Variety is enamored of The Walking Dead's opening credits sequence. Read on for more:
• One of TV Guide's top moments of the week is the discovery that "all roads may lead to Terminus, but that proves to not be a good thing on The Walking Dead's season finale."
• The Hollywood Reporter asks Andrew Lincoln what it was like to take a bite out of Jeff Kober's neck in the Season 4 finale. (He calls it "the gnarliest thing I've ever had to do.")
• Variety considers The Walking Dead's opening title sequence to be one of the best on TV because it "perfectly captures the sense of dread and urgency the show seeks to conjure."
• Robert Kirkman tells TV Guide that Carl is in "a pretty bad position locked in this train car at the mercy of other people, and that could lead to him being tested in other big ways."
• Scott Wilson talks to the Atlanta Journal Constitution about Hershel representing "the humanity in the group. He took over the function Dale had early on."
• Backstage interviews Josh McDermitt about his approach to playing Eugene, and how he thinks there's something about the character that's "kind of comedic because he's different."
• Josh McDermitt also speaks with Download.com, saying he thought the Season 4 finale was "great. I thought it was fitting for how the season was going, and it had gotten to the place that nobody expected."
• Zap2it's best TV lines from last week include two from the Season 4 finale, one said by Carl and the other by Rick.
• What Culture takes a look at the 10 best new characters that were introduced in Season 4 and "left a huge impact on the show."
• SpoilerTV selects its top five moments from Season 4.
• What Culture singles out 10 moments "when the TV show ignored the comic, and was better for it."
• According to The Hollywood Reporter, the North American rights to Swelter, which features Lennie James, have been acquired by Well Go USA.
To stay up-to-date on all the latest news about The Walking Dead, sign up for the weekly Dead Alert newsletter.
Read More