Press
Scott Gimple Chats With Larry King; Gale Anne Hurd Receives Achievement in Film Award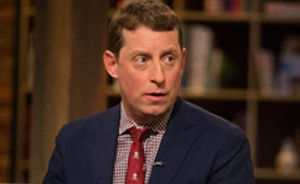 This week, Scott Gimple sits down with Larry King to discuss all things The Walking Dead, while Gale Anne Hurd receives an award for achievement in film. Plus, Robert Kirkman will appear in an episode of SundanceTV's The Writers' Room on Apr. 25. Read on for more:
• Scott Gimple sits down with Larry King and talks, among other things, about the likelihood of Morgan's reappearance ("I am so determined to make that happen by hook and by crook that I can say definitively 'yes'"). The Walking Dead Forums has highlights from the conversation.
• Comic Book Resources provides the transcript of The Walking Dead 'Cast's interview with Scott Gimple, who says the Michelle MacLaren-directed Season 4 finale scene with Rick and the claimers was "one of the best-directed sequences we've ever had. I mean, she did an astounding job."
• Wetpaint reports that Gale Anne Hurd was honored with the Achievement in American Film Award at the Charleston International Film Festival.
• Refinery29 interviews Emily Kinney, who talks about shooting Season 2's "Pretty Much Dead Already" when Sophia emerged from the barn and how that was "just a really unifying day and really special moment."
• Robert Kirkman is featured in SundanceTV's The Writers' Room: The Walking Dead, Smallville & other comics, airing on Apr. 25. SundanceTV has a clip of Kirkman talking about casting the role of Daryl, as well TV Guide Magazine discussing The Walking Dead's legacy. Plus, SundanceTV submits its candidates for the 10 deaths that made viewers cry.
• Chandler Riggs tells SpoilerTV that Andrew Lincoln is his favorite person to work with on The Walking Dead.
• What were Rick, Michonne, Carol and Daryl's best Season 4 scenes? Wetpaint names its candidates.
• Wetpaint checks out AMCTV.com's Q&A with Christian Serratos, who says Rosita is "the type of gal who knows what she wants and what she's doing, but I think she's a lot more brave than I am."
• According to The Hollywood Reporter, Steven Yeun will star in Chew, an animated feature film adaptation of the Image Comics series.
• HorrorTalk reports that Season 1 of Afterlife, a series starring Andrew Lincoln, will be available on DVD next month.
To stay up-to-date on all the latest news about The Walking Dead, sign up for the weekly Dead Alert newsletter.
Read More