Press
Robert Kirkman, Scott Gimple Tease Season 5; Andrew Lincoln Describes Rick's Evolution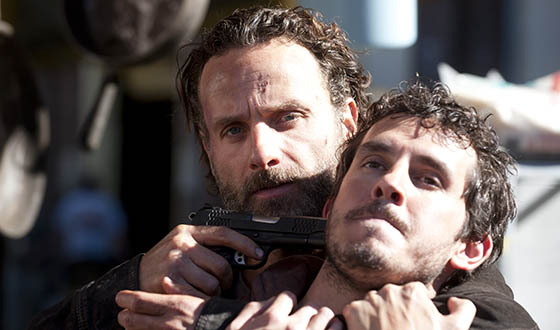 This week, Robert Kirkman and Scott Gimple deconstruct Season 4 and discuss what might happen in Season 5, while Andrew Lincoln charts Rick's evolution. Plus, TV Guide asks some questions about Terminus. Read on for more:
• The Hollywood Reporter gets Robert Kirkman and Scott Gimple's take on what to look forward to in Season 5, including "a more capable and prepared Rick Grimes coming out of what he's experienced in this episode."
• Robert Kirkman gives Entertainment Weekly his take on the Season 4 finale: "We knew that Terminus was going to be a great place to leave things. We kind of wanted to leave this season with a little more punch than we've left it in past years." TheWalkingDead.com asks Kirkman about Gareth, while TVLine gets his view on the cannibal question.
• TV Guide chats with Robert Kirkman and Scott Gimple, who say viewers will find out soon about Terminus' population: "The truth of what those people are about will come super quick. When people tune in in October, they're not going to have to wait a super long time to find out what they're about."
• Scott Gimple tells Deadline that the first eight episodes of Season 5 are "going to be a little more action-heavy, with a lot of big twists." Entertainment Weekly learns from Gimple that the Season 4 flashbacks were "to show the contrast of where he [Rick] was at the beginning of the season."
• The Daily Beast speaks with Andrew Lincoln, who says that Rick is now "a man who's made peace with both sides of his character and, as a result, he's a much more powerful and lethal leader." About the group being trapped in the train car, Lincoln tells Entertainment Weekly, "I have no idea how we're gonna get out of there, but when we do, we will rain hell upon these Termites!"
• TV Guide has some questions about Terminus and its population.
• Forbes traces Rick's evolution over the course of the series, pointing out that the only main character who died in the Season 4 finale was Farmer Rick ("won't see him no more").
• Norman Reedus takes Entertainment Weekly's Pop Culture Personality Test and reveals that Jaws is the scariest movie he's ever seen.
• Entertainment Weekly interviews Alanna Masterson, who talks about shooting in the train car: "It was all of us in one car so that was extremely funny because no one could keep us quiet because we were all just laughing and telling jokes."
• Deadline reports that Adam J. West (Gareth), Alanna Masterson (Tara) and Christian Serratos (Rosita) have been promoted to series regulars for Season 5.
• Andrew Lincoln speaks with The Walker Stalkers and reveals, during a podcast, that Job, from the Old Testament, has been an inspiration for Rick.
• Forbes, chatting with Scott Gimple about "The Grove," describes it as "the best episode of The Walking Dead to date."
• Gold Derby argues that Emmy voters need to embrace The Walking Dead.
• MTV showcases behind-the-scenes photos from the season finale — which feature the cast "goofing off, taking selfies and generally having the best time possible on the grimmest show possible."
• Thomas Golubi? talks to Radio.com about the favorite music he's chosen for The Walking Dead over the past few seasons.
• Curtis Gwinn, a writer and producer on The Walking Dead, talks to Co.Create about transitioning from stand-up comedy to his current job.
• The Tampa Bay Times goes behind the scenes of Michonne's zombie slaughter in the midseason premiere, calling it "one of the show's most jarring set pieces."
• FEARnet relives "the most downright devastating character deaths" to date on The Walking Dead.
• Ahead of the Season 4 finale, the Winston-Salem Journal interviews Eric Mendenhall about playing a member of the "Claimed" gang.
• Davi Jay, another actor who played a gang member, tells his hometown Houston Chronicle that The Walking Dead cast and crew is "just one of the finest, finest groups that I've had the pleasure of working with."
• What Culture, observing that "one thing that has consistently captivated audiences is the near-perfect soundtrack," pays homage to some of the best songs on The Walking Dead.
• Norman Reedus has joined the cast of a movie called Triple Nine, to be directed by John Hillcoast, according to Deadline.
• For recaps and reviews of the Season 4 finale, "A," check out Access Hollywood, CNN, The Daily Beast, Entertainment Weekly, Forbes, HitFix, The Hollywood Reporter, MTV, New York Daily News, The Plain Dealer, Rolling Stone, The Star-Ledger, TODAY, TVLine, Variety, The Wall Street Journal, The Washington Post, TheWrap, Yahoo TV and Zap2it.
To stay up-to-date on all the latest news about The Walking Dead, sign up for the weekly Dead Alert newsletter.
Read More