Press
Robert Kirkman, Greg Nicotero Preview Season 4 Finale; Danai Gurira On Michonne, Rick & Carl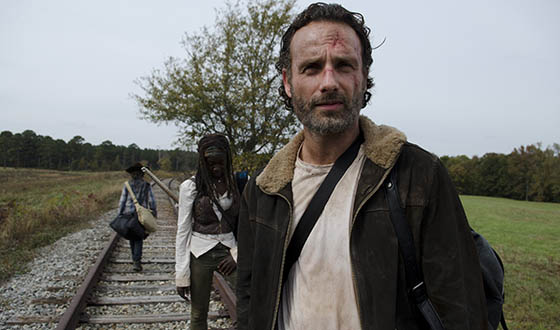 This week, Robert Kirkman and Greg Nicotero tease what's coming up on the Season 4 finale, while Danai Gurira gives some insight into Michonne's relationship with Rick and Carl. Plus, Kirkman reveals much in a Reddit AMA. Read on for more:
• Entertainment Weekly looks ahead to the Season 4 finale with Robert Kirkman, who says "there are some big questions that are asked that are going to be answered in this final episode."
• "Terminus could be what it is on face value or it could be hiding something darker," Robert Kirkman tells TheWalkingDead.com about "Us."
• Talking to The Hollywood Reporter, Greg Nicotero adds, "Everyone gets to Terminus and smiles and thinks, 'Maybe the world isn't all a bad place.'"
• Danai Gurira tells HeyYouGuys about the challenge of playing Michonne: "You're dealing with a character who has shut down emotionally, and that's fascinating to play." Den of Geek also interviews Gurira, who reveals that "Clear" was her favorite Season 3 episode because it allowed Michonne the "beginning of really starting to open up to these two people [Rick and Carl] and show that she cares for them."
• Robert Kirkman does a Reddit AMA (Ask Me Anything) — and Wetpaint has some details. Kirkman also shares that the Season 4 finale will be "SAVAGE," according to E! Online.
• Gale Anne Hurd tells Entertainment Weekly that the last two episodes of Season 4 will "really see certain characters pushed to their limit."
• The Daily Beast learns from Emily Kinney that she had her first taste of moonshine courtesy of Scott Wilson (Hershel).
• Access Hollywood speaks with Josh McDermitt, who hints that everyone on The Walking Dead has "their own mission and everyone has a thing that they want to voice and so it's gonna be fun to watch this play out and see how everything kind of conflicts."
• SundanceTV interviews Nick Gomez, who played Tomas on The Walking Dead and is now starring in Sundance Channel's The Red Road.
• ComicBook.com highlights a new Season 4 finale poster that depicts Carol and Judith and asks "Who will survive?"
• TV Fanatic nominates its candidates for the nine most shocking deaths on The Walking Dead.
• According to Wetpaint, "Us" featured a "hopeful, comforting" song called "Be Not So Fearful" by Bill Fay.
• Entertainment Weekly reports that Fox's MyNetworkTV will air reruns of The Walking Dead that will be edited for broadcast TV.
• For recaps and reviews of Season 4, Episode 15, "Us," check out Access Hollywood, A.V. Club, Boston Herald, Entertainment Weekly (recap and review), FEARnet, Forbes, The Huffington Post, MTV, the New York Daily News, San Jose Mercury News, The Star-Ledger, TVLine, The Wall Street Journal, The Washington Post and Zap2it.
To stay up-to-date on all the latest news about The Walking Dead, sign up for the weekly Dead Alert newsletter.
Read More