Uncategorized
Q&A – Norman Reedus (Daryl Dixon)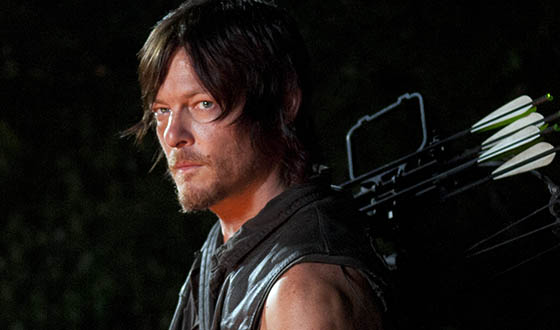 Actor Norman Reedus, who plays Daryl Dixon on AMC's The Walking Dead, talks about the inspiration behind Daryl's infamous scowl and how he welcomes new actors on the show.
Q: Daryl has really emerged as a fan favorite character. When you signed up for the role, did you ever think that he would be so lovable?
A: I'm trying to make him lovable here and there, but not too lovable.
Q: He's also one of a dwindling group of characters who have been on the show since the beginning. What's the secret to his longevity?
A: Oh man, I don't know what the secret is. Everyone that has met their end has been such a rich character, and those actors have brought those characters to life in such great ways. I don't think anybody is going to die in a hospital bed smiling with all their loved ones around holding hands.
Q: Fans have their own methods for trying to predict what is going to happen on the show. What do the actors do? 

A:  We get the scripts right before we shoot them. I sometimes hear rumors of certain directions we'll take, and sometimes they're right and sometimes they're wrong. But nobody knows their character's arc. Even when we do roundtables when the show kicks off, we have all these interviewers and they say, "Oh, we've watched the first two episodes, and this is what I think is happening." They're usually wrong, and they just watched it! So Scott and the writers are very good at keeping those secrets to themselves. The whole arc of the show in general is locked somewhere in a vault in Scott Gimple's brain.
Q: Conan O'Brien recently said he thought you have one of the best "mean, tired, angry, I'm-going-to-kill-you scowls," on the show. That's saying a lot, given other characters like Michonne. Are there any famous scowlers you look up to?
A: Early on, I was so insecure as an actor that I just gave everyone dirty looks. I thought they all hated me. And somehow I've played parts since then where I murder people. It's kind of like that scowl turned into a career. All of my favorite actors brood. Clint Eastwood definitely had a scowl happening. Charlie Bronson. Marlon Brando had one when he wanted one. Willem Dafoe can definitely turn your brain to ice by staring at you. As for Daryl, I've always played him as a fighter, but that's because he's always had to fight. That's a different kind of a fight than a guy with big pecs coming at you to prove a point. I guess that goes hand-in-hand with the scowl.
Q: Are you missing Michael Rooker this year as much as Daryl misses his brother?
A: Rooker is fun — he's kind of a tornado of a guy. You never know what's going to come out of his mouth. So yeah, I totally miss him. I miss all the characters that we've lost.
Q: There are a lot of new characters this season, though. What's it like to welcome new cast to the set?
A: It's interesting because when they come on, I kind of look at them the way Daryl would look at them. I don't really talk to them, I kind of give them dirty looks, and then after a couple of episodes when they're all beat up and they have scrapes all over their bodies and they're kind of walking as if they're 95 years old, then I open up and I'm like, "Hey, nice to have you on board."
Q: After four seasons on the show, how much has Daryl become a part of you? 
A: You really don't let go of [the character] for a while. I remember I did a voiceover for an animated feature where I played The Punisher. I went in real rednecky, and they were like, "Woah, you're not Daryl. Don't be Daryl." And we all talk. I talk to Andy and I talk to the other cast members during the off-season and we try to see each other when we can, and so you kind of really never let it go.
Read More