Press
Norman Reedus Talks "Still" With THR; Emily Kinney Takes EW's Pop-Culture Personality Test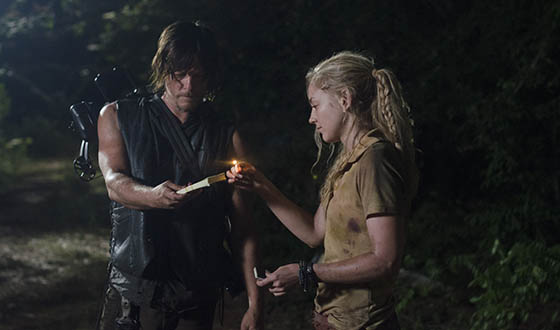 This week, The Hollywood Reporter gets Norman Reedus's take on "Still," while Emily Kinney gets quizzed by Entertainment Weekly. Plus, Time wonders why there aren't more The Walking Dead imitators. Read on for more:
• Norman Reedus chats with The Hollywood Reporter about the ending of "Still," when "there's hope, which is something we've never seen in any of our episodes before. They have a little spring in their step at the end of it and it's a beautiful thing to watch."
• The Wall Street Journal also talks to Norman Reedus about playing Daryl "like he's had his back up against the wall, that's his reason for fighting," and The Huffington Post interviews Reedus about the The Walking Dead death that hit him the hardest.
• Access Hollywood talks to Norman Reedus about Beth hugging Daryl in "Still": "Daryl, feeling her hug him from behind was larger to me than a face-to-face hug. It was the support."
• Emily Kinney takes Entertainment Weekly's pop culture personality test and "proved her cultural cred," including an "acting crush" on Leonardo DiCaprio.
• Time wonders why more networks haven't tried to imitate the success of the juggernaut that is The Walking Dead.
• MTV has lots of burning questions about "Still," calling it "one of the most wonderfully weird" episodes of The Walking Dead ever.
• The Saturn Award nominations were announced and The Walking Dead has five nods: best syndicated/cable TV series, best supporting actress for Melissa McBride, best guest star for David Morrissey, best performance by a younger actor for Chandler Riggs and best TV release for The Walking Dead: The Complete Third Season.
• ComicBook.com talks to McFarlane Toys's Todd McFarlane about scanning Norman Reedus for a new Daryl action figure.
• ComicBook.com spotlights the song that played over the final scene of "Still," The Mountain Goats's "Up the Wolves," and calls it "a great song, which really fit the mood of the episode and scene that was unfolding."
• The Wall Street Journal reports that zombies have infiltrated academia as much as they've infiltrated popular culture.
• Three If By Space has an interview with Michael Rooker, who gives some advice on the best bayonet arm for the zombie apocalypse.
• The Nottingham Post takes a look at a British fan of The Walking Dead who's re-created his favorite scenes with pieces of bread.
• For recaps and reviews of Season 4, Episode 12, "Still," check out ComicBook.com, Complex.com, The Daily Beast, Entertainment Weekly, Forbes, HitFix, OnTheRedCarpet.com, San Jose Mercury News, Time, TV.com, TV Fanatic, TVLine, Vulture.com, The Wall Street Journal, The Washington Post and Zap2it.
To stay up-to-date on all the latest news about The Walking Dead, sign up for the weekly Dead Alert newsletter.
Read More