Press
Melissa McBride Talks Carol's Harrowing Episode; Scott Gimple, Robert Kirkman Deconstruct "The Grove"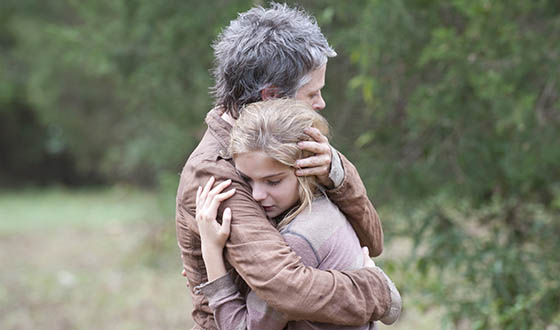 This week, Melissa McBride, Scott Gimple and Robert Kirkman all talk about the harrowing happenings of "The Grove." Plus, Lauren Cohan and Norman Reedus do the talk show rounds. Read on for more:
• Melissa McBride tells The Hollywood Reporter she was "overwhelmed and devastated" when she found out what Carol had to do in "The Grove." McBride shares with Entertainment Weekly, "Looking at the flowers will never be the same for me now." She also discusses the episode with Access Hollywood.
• Entertainment Weekly chats with Scott Gimple, who says the camera was on Carol, not Lizzie, during the scene where Lizzie dies because "this is fulfilling a big part of Carol's story in a very tragic way." • Robert Kirkman talks up the final episodes to TheWalkingDead.com, saying, "I think people should stay glued to the couch for these next two episodes, they're going to be pretty cool."
• Robert Kirkman also speaks with Entertainment Weekly about "The Grove," calling it an episode that "people are going to remember and it's definitely one people are going to talk about."
• Visiting Late Night With Seth Meyers, Norman Reedus ends up aiming a crossbow at a zombie audience member. Wetpaint has more details of Reedus' appearance.
• Norman Reedus also talks to The Daily Beast about why Daryl went off with the gang of guys at the end of "Alone": "It's probably not gonna be an easy ride for him, but you gotta travel in a pack."
• Lauren Cohan drops by The Late Late Show With Craig Ferguson twice in one week — and Wetpaint has reports of both visits. Cohan is also profiled by the Chicago Tribune.
• Wetpaint reports on Steven Yeun and Norman Reedus taking over E! and deciding to "embrace the walkers and include them in E!'s new, post-apocalyptic programming."
• Access Hollywood interviews Lawrence Gilliard, Jr., who characterizes Bob's story as "a metaphysical story. It's about, you know, you manifest what you believe."
• Emily Kinney tells MTV that the show is meant to evoke people "in the dark, walking around, trying to survive, not knowing what is around the corner: we want you to feel the way we feel."
• Yahoo TV speaks with Christian Serratos about Rosita's mission, which is "to keep Eugene safe with Abraham. That's all she has right now, so she's going to do it to the best of her ability."
• Josh McDermitt, interviewed by Channel Guide Magazine, says his favorite part of playing Eugene is "peeling back the onion of what is this guy all about, what makes him tick."
• Melissa McBride talks to the Lexington (Ky.) Herald-Leader about her admiration for Carol, saying, "To see her still standing and fighting hard despite everything, it feels great."
• Daily Dead talks to Brighton Sharbino (Lizzie) about how it's "fun to play a character that is very different from your natural self."
• What Culture lists what it considers to be the 25 coolest walkers so far, "whether they're jaw-droppingly gorey, spine-chillingly unsettling or just plain awesome."
• USA Today checks out a new documentary called Doc of the Dead that spotlights the zombie genre and interviewed luminaries such as Robert Kirkman and Greg Nicotero.
• For recaps and reviews of Season 4, Episode 13, "The Grove," check out Access Hollywood, The Baltimore Sun, Boston Herald, Chicago Tribune, Entertainment Weekly, E! Online, Forbes, HitFix, Los Angeles Times, MTV, the New York Daily News, San Jose Mercury News, TVLine, The Wall Street Journal and The Washington Post.
To stay up-to-date on all the latest news about The Walking Dead, sign up for the weekly Dead Alert newsletter.
Read More