Press
Robert Kirkman Dissects "Claimed"; NY Post, Kelly and Michael Interview Norman Reedus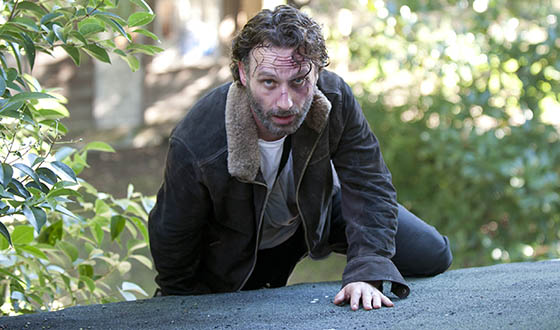 This week, TheWalkingDead.com gets Robert Kirkman's thoughts on "Claimed," while Norman Reedus talks to the New York Post and Live With Kelly and Michael. Plus, Danai Gurira and Charlie Collier show up on CNBC's Squawk Box. Read on for more:
• Robert Kirkman discusses "Claimed" with TheWalkingDead.com and shares that one of the marauders (played by Jeff Kober) who invaded the house when Rick was napping is "definitely going to be returning again and it will happen when you least expect it."
• Profiled by the New York Post, Norman Reedus reveals, "People think I'm this angry, surly, ready-to-start-a-fight guy, but I'm kind of a pussycat."
• OntheRedCarpet.com shares the highlights from Norman Reedus's visit to Live With Kelly and Michael.

• Danai Gurira and Charlie Collier, AMC's president, visit CNBC to discuss the kind of person that can survive a zombie apocalypse, as well as the importance of character.
• What is Daryl's reaction to Rick's banishment of Carol? Norman Reedus tells CableTV.com, "Daryl is not happy about that at all."
• Josh McDermitt, a Phoenix native, talks to Arizona's KTAR about joining The Walking Dead as Eugene.
• Josh McDermitt talks to The Hollywood Reporter about how you "might think Abraham calls the shots… but Eugene is the brains and he's the one really running the show." McDermitt also has a chat with Yahoo! TV and Zap2it.
• According to Deadline, The Walking Dead beat the Sochi Olympics closing ceremony in the key demographic of adults aged 18 to 49.
• MTV has pictures of the Season 4 Blu-ray, featuring the Tree Walker, which reaches its arm and head towards you as you remove the discs from the folder.
• The Tampa Bay Times praises The Walking Dead for "undergoing a funny change these days, embracing both a comic, and comedic, surrealness that totally works for me."
• Norman Reedus as Daryl is one of TV Fanatic's scene stealers, as "another entry written into a fictional world for TV that we couldn't live without."
• Wetpaint is excited to learn that Michonne's son was named Andre Anthony, although it has more questions, including "was her boyfriend, Mike, Andre's father? If Mike and his friend Terry became her 'pets,' what happened to her son's body?"
• Access Hollywood interviews Alanna Masterson, who says Tara will never give up: "I think she could be surrounded by 800 walkers and she would fight her way out."
• Wetpaint compiles a gallery of Rick and Carl's best father/son moments.
• Sonequa Martin-Green talks to AfterBuzz, and Wetpaint has some of the details of her conversation.
• Zap2it takes a look at the opening credits of NBC's Community done in The Walking Dead's style.
• Comic Book Movie checks out two making-of videos for "Claimed."
• Wetpaint features AMC's behind-the-scenes video for Glenn's escape from the prison.
• Emily Kinney talks to the Asbury Park (N.J.) Press about her singing/songwriting career and calls performing in front of a live audience "very immediately satisfying."
• The Orange County Register spotlights The Walking Dead Infinity Scarf, "inspired by the pattern of Daryl's most admired accessory, his serape-print poncho," available at heruniverse.com. [No link]
• For recaps and reviews of Season 4, Episode 11, "Claimed," check out ComicBook.com, Entertainment Weekly, Forbes, HitFix, MTV, the New York Daily News, San Jose Mercury News, The Star-Ledger, Time, TV.com, TVLine, The Wall Street Journal, The Washington Post, Wetpaint and Zap2it.
To stay up-to-date on all the latest news about The Walking Dead, sign up for the weekly Dead Alert newsletter.
Read More