Press
EW Previews Season 4 With Andrew Lincoln, Norman Reedus, Danai Gurira; TVLine Applauds Chandler Riggs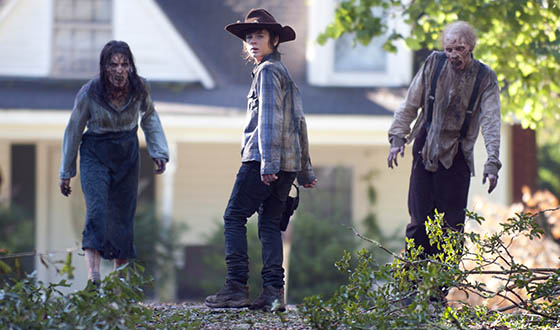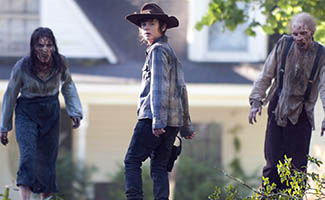 This week, Andrew Lincoln, Norman Reedus and Danai Gurira tease the rest of Season 4 to Entertainment Weekly, while Chandler Riggs wins kudos from TVLine. Plus, Gale Anne Hurd talks Carol with Us Weekly. Read on for more:
• Andrew Lincoln talks to Entertainment Weekly about where Rick is at when Season 4 returns, calling him "physically weak, spiritually he's lost, mentally he doesn't quite know where to begin because he's just seeing his home demolished. He's in the worst place he's been."
• Entertainment Weekly learns from Norman Reedus that the upcoming episodes are "our best eight episodes yet. The storylines, the acting, and the directing, and the writing are top of our food chain."
• Faced with the trauma of the events of the Mid-Season Finale, Danai Gurira tells Entertainment Weekly that Michonne is facing "a question of going back to the old her or going on a different path."

• After watching the Mid-Season Premiere, TVLine is full of praise for the ensemble's youngest regular cast member, noting, "trust me when I say that you'll never again think about discounting Chandler Riggs as just a good 'kid actor' — his work here is exceptional."
• When asked by Us Weekly about Carol's possible return, Gale Anne Hurd replies, "Let's just say a lot of people will be happy!" [No link]
• Mother Jones interviews Greg Nicotero about the people who clamor to be zombies, even though it "sounds more glamorous than it is. But there are people who really love it."
• The New York Post introduces The Walking Dead's new cast members, who will debut at the end of the Feb. 16 episode.
• The New York Daily News extols The Walking Dead's ratings, especially in the 18- to 49-year-old demographic, noting that a "show with lots of 18-49s will stay on the air much longer than a show without them."
• Lauren Cohan has booked a multi-episode arc on FX's Archer, reports Entertainment Weekly.
• Reviewing the Mid-Season Premiere, which airs Feb. 9, Us Weekly calls it "an unsettling must." [No link]
• The Orlando Sentinel includes The Walking Dead's Feb. 9 return on its list of February's TV highlights.
• At Amazing Arizona Comicon, Robert Kirkman avoids giving anything away but does try to answer questions about the rest of Season 4, such as it's "entirely possible that we haven't seen the last of Morgan. But there's always a possibility that we have."
• Norman Reedus tells SciFiNow how he'd like Daryl to go: "If I had my way he would find a dog and then just walk down a road and disappear into the horizon like Mad Max."
• MLive.com recommends watching Steven Yeun and his fellow The Walking Dead cast members on Conan on Feb. 6.
• A half-hour before the Mid-Season Premiere on Feb. 9, Norman Reedus will do a Twitter chat with The Walking Dead's fans, ComicBook.com relates.
• Catch a trailer for the Mid-Season Premiere at The Hollywood Reporter, which says that all the insanity on display "illustrates just how good the group had it at the prison and solidifies why the Governor wanted to claim the grounds as his own." According to TheWrap, in the trailer, "Carl stays eerily cool. When did he become the scariest part of the show?"
• Bloody Disgusting has a sneak peek at the Mid-Season Premiere, which is directed by Greg Nicotero and written by Robert Kirkman.
• Daily Dead interviews Kyla Kenedy (Mika), who says she "LOVED EVERYTHING" about working with Melissa McBride.
• TheCelebrityCafe.com lists the best moments of Season 4 so far.
• SheKnows suggests five ways to stay occupied while waiting for The Walking Dead's return.
• ComicBook.com highlights AMC's Zombie Cards Valentine's Day cards that fans of the The Walking Dead "can share with their special someone."
To stay up-to-date on all the latest news about The Walking Dead, sign up for the weekly Dead Alert newsletter.
Read More