Press
Cast, Crew Talk Mid-Season Premiere With EW, Vulture; Conan Hosts The Walking Dead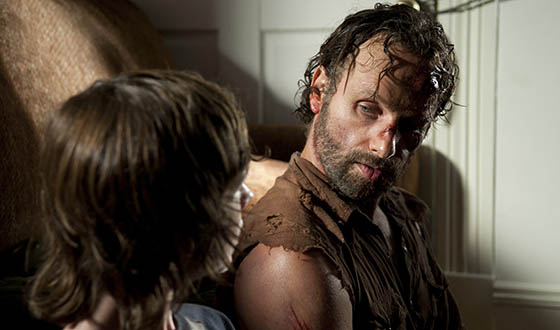 This week, several members of the cast and crew deconstructed the Mid-Season Premiere with Entertainment Weekly and Vulture, among other publications, while the cast hobnobbed with Conan O'Brien. Plus, The Walking Dead returned to ratings that surpassed even the Olympics. Read on for more:
• Entertainment Weekly discusses the Mid-Season Premiere with Andrew Lincoln, Danai Gurira and Robert Kirkman, who penned the episode.
• Meanwhile, Vulture.com gets Scott Gimple's take, who calls the episode "maybe one of the quietest episodes since the pilot. I'd say next Sunday's episode ain't so quiet. There's a lot of loud in it." Gimple also talks to The Hollywood Reporter.
• Wired gets more from Robert Kirkman, who says a different structure in Season 4's remaining episodes are "really going to energize the series and shake things up in a way that will be very cool for the fans."
• The Los Angeles Times learns more about the Mid-Season Premiere from Danai Gurira, who says that the rest of Season 4 boils down to two questions: "Who does everyone become as they step out of that prison? Who is everyone going to become?"
• Talking to E! Online, Gale Anne Hurd has some scoop on what's ahead for Daryl, including how he copes with the "twin tragedies" of the prison's fall and Carol's banishment. Hurd also talks about "After" with Zap2it.
• Conan hosts several members of The Walking Dead cast — and Zap2it, On TheRedCarpet.com, Wetpaint, CarterMatt.com and FanSided have accounts of the visit.
• Upon its mid-season return, The Walking Dead surpassed both the Winter Olympics and a salute to the Beatles in ratings, Vulture.com reports. Also, according to Forbes, the episode led the Nielsen Twitter TV Weekly Top Ten list with a total of 1,240,100 Tweets.
• Variety details how The Walking Dead "breaks every rule we know about TV hits."
• Forbes notes how important it is that The Walking Dead will focus on just a few characters at a time because "allowing a series the ability to slow down and hang out gives the audience a chance to do the same."
• Vulture.com showcases a Teen Beat cover featuring Carl, "the new world's hottest hatted hunk."
• Wetpaint features a video that goes behind-the-scenes of Michonne's zombie slaughter in the Mid-Season Premiere, when she "slayed some of her post-prison demons in an epic zombie battle scene."
• Shutterstock checks out four kinds of designer zombies.
• Commenting on Daryl's popularity in the Los Angeles Times, Norman Reedus says, "I think people are drawn to him because they see a man who is trying to become a better person in the worst circumstances possible."
• Ahead of the Mid-Season Premiere, Gale Anne Hurd spoke with Zap2it, FEARnet, E! Online and IGN about what to expect, warning, "There are also people, perhaps, just as evil as the Governor out there."
• Speaking with The Hollywood Reporter, Robert Kirkman teases there's "going to be some big changes afoot" once Abraham, Eugene and Rosita are introduced.
• Newsday awards the Mid-Season Premiere an "A," commenting, "Dead brazenly reinvents itself once again, and the result will have you crawl under the living room couch for safety." TV Guide calls the episode "Carl's hour to shine, to rise and fall and possibly mature into the man he has had to become way too early in life."
• The Plain Dealer, calling the Mid-Season Premiere "a suspenseful, emotionally charged episode," cites the undead drama for arguing that "we're in the middle of a golden age for TV horror."
• Creative Loafing Atlanta catches up with a post-The Walking Dead Scott Wilson.
• Norman Reedus appears on the cover of NYLON Guys and shares that he's protective of Daryl's love life, according to People, because "if Daryl's going to get busy with another character, it has to be just right." Reedus also shows up in the latest episode of TheWrap's "Drinking With the Stars."
• Entertainment Weekly talks to Lauren Cohan and Steven Yeun about the rest of Season 4. Yeun compares Season 4 to a musical composition, saying that Scott Gimple "plays a really great complete opus. He plays a whole kind of sonata."
• Den of Geek interviews Norman Reedus, who says how fun it was go up against a tank in the Mid-Season Finale: "That was a blast doing all of that and even the moments going up to the tank I thought were great, using a zombie as a shield and all that stuff, it's really fun to do."
• Before the Mid-Season Premiere, CNN got Danai Gurira's take on what's to come, while Digital Spy tried to get some scoop from Norman Reedus.
• Rolling Stone talks to Emily Kinney about the rest of Season 4, as well as her music, and E! Online pumps Sonequa Martin-Green for information.
• Parade interviews Eulyn Womble, The Walking Dead's costume designer, who says that Hershel's costume was one of her favorites: "His suspenders, ratty sports coat and collarless shirt helped create one of my favorite characters. Without a word, I think you know exactly who is…"
• Entertainment Weekly showcases photos from the back half of Season 4.
• Vulture.com spotlights January's best entertainment photography, including a shot of Norman Reedus eating a doughnut in GQ Japan.
• Under the Radar poses eight unresolved questions that it would like answered during the rest of Season 4.
• Danai Gurira talks to Africa's Mail & Guardian about developing artists in Zimbabwe, where she grew up: "We want the Zimbabwean Chekhov, we want the Zimbabwean Ibsen, we want the Zimbabwean Shakespeare, but we have to invest in them, and we have to facilitate the development and showcase the works."
• Catch Emily Kinney in performance in New York this month and next month, according to Metro.
• For recaps and reviews of the Season 4 Mid-Season Premiere, "After," check out A.V. Club, The Baltimore Sun, Basket of Kisses, Big Shiny Robot, Entertainment Weekly, Hollywood Life, The Huffington Post, the Los Angeles Times, On TheRedCarpet.com, The Star-Ledger, Time, TV Guide, TVLine, Variety, Wetpaint, Yahoo TV and Zap2it.
To stay up-to-date on all the latest news about The Walking Dead, sign up for the weekly Dead Alert newsletter.
Read More