Press
USA Today Recommends The Walking Dead; LA Times Remembers Hershel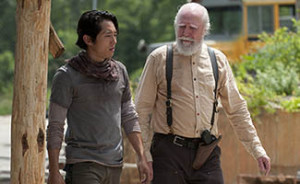 This week, USA Today and the Orlando Sentinel deem The Walking Dead one of the year's best shows, while the Los Angeles Times and Newsday memorialize Hershel. Plus, The Walking Dead is helping to prop up cable numbers. Read on for more:
• The Walking Dead is one of the shows "that made the TV year brighter," according to USA Today.
• One of the Orlando Sentinel's favorite TV shows of the year was The Walking Dead, which "retained its visceral, violent verve, but it was more powerful in its quiet moments."
• The Los Angeles Times bids farewell to Hershel (remembered for his "wisdom and guidance") and the Governor ("perhaps the year's greatest villain, and the most cheered death").
• Newsday's top 10 TV deaths include "good, decent" Hershel.
• Merle had one of the year's best TV deaths, according to Comic Book Resources: "Merle wasn't always a good guy, and he certainly wasn't ever a nice guy, but that doesn't mean he deserved to have his fingers chewed off by the Governor."
• Greg Nicotero speaks in-depth with Channel Guide Magazine about Season 4 and shares, "I'm dying for people to see the next eight episodes because there's so much good stuff!"
• USA Today cites The Walking Dead, the most-watched original cable series in 2013, as an example of cable TV holding its own with viewers.
• In naming 2013's top TV moments, the Chicago Sun-Times says the "long-awaited prison showdown in the recent midseason finale didn't disappoint."
• One of the best lines on TV in 2013 was Hershel instituting "spaghetti Tuesdays every Wednesday," in Season 4's "Internment," according to the Los Angeles Times.
• One of the most anticipated shows in 2014 includes the rest of The Walking Dead's Season 4, according to International Business Times.
• The continuing success of Steven Yeun, a Kalamazoo College graduate, on The Walking Dead is one of the year's top Kalamazoo-centric stories on Michigan's MLive.
• International Business Times checks out 2013's "epic" The Walking Dead moments, from meeting Morgan again in Season 3's "Clear" to the prison war in the Season 4 midseason finale.
• ComicBook.com and Wetpaint highlight a new The Walking Dead-themed personality test called "How Long Would You Survive in a Zombie Apocalypse?"
• Wetpaint and Moviepilot feature AMC's Q&A with Carrie Cottrill, the owner of The Woodbury Shoppe in Senoia, Georgia, that's devoted to all things related to The Walking Dead.
• To stay up-to-date on all the latest news about The Walking Dead, sign up for the weekly Dead Alert newsletter.
Read More