Press
Danai Gurira on Michonne's Fans; Steven Yeun Previews Glenn/Maggie in Rest of Season 4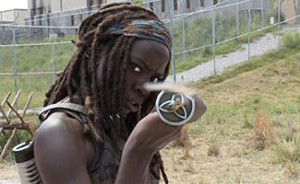 This week, Danai Gurira speaks with the AP about how fans respond to Michonne, while Steven Yeun says what he can about Glenn and Maggie's storyline. Plus, a film starring Yeun wins a prize at Sundance. Read on for more:
• Danai Gurira talks to The Associated Press about how the time she spent in Africa influences her work — and how girls respond to Michonne by telling Gurira "you make me feel strong."
• Previewing what's going to happen to Glenn and Maggie in the rest of Season 4, Steven Yeun tells Refinery29, "I think people are really going to see the true love those two characters have for each other at the second half of the season."
• I Origins, a film starring Steven Yeun, won the Alfred P. Sloan Feature Film prize at the Sundance Film Festival, according to Indiewire. The film's worldwide rights have been bought by Fox Searchlight Pictures, Cinelinx says.

• In anticipation of The Walking Dead's Feb. 9 return, AMC has a preview video that Wetpaint checks out. Geeks of Doom calls the preview "a hearty sneak peek."
• FlickSided showcases the "Zombie Bowl," a The Walking Dead marathon, which airs on Super Bowl Sunday.
• Den of Geek features a couple of photos — of Michonne and Carl — from the Mid-Season Premiere.
• The San Francisco Examiner speaks with Emily Kinney about her singer/songwriter career, ahead of The Walking Dead actress's gig in San Francisco.
• Wetpaint spotlights the latest The Walking Dead-related quizzes.
• Televisual says that Lennie James will lead the cast of Sky 1's Critical.
• To stay up-to-date on all the latest news about The Walking Dead, sign up for the weekly Dead Alert newsletter.
Read More