Press
Producers Tease Rest of Season 4; THR Chats With Scott Wilson and David Morrissey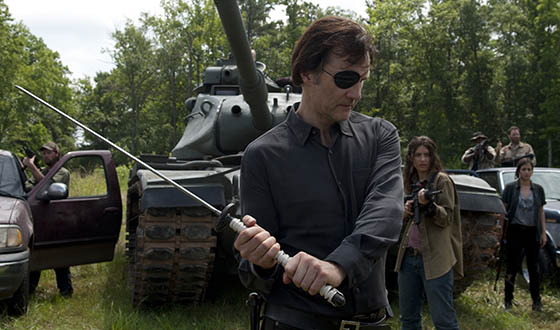 This week, Scott Gimple, Robert Kirkman and Gale Anne Hurd talk about what's to come in Season 4, while Scott Wilson and David Morrissey discuss their characters' farewells. Plus, E! Online previews what the audience has to look forward to in the season's back half. Read on for more:
• Scott Gimple and Robert Kirkman dissect the mid-season finale with The Hollywood Reporter. Gimple, who is also interviewed by Vulture, teases that Carol will "return at some point. We might have flying cars at that point, but she will return."
• TV Guide also gets Robert Kirkman's take on "Too Far Gone." Kirkman, who chats with Entertainment Weekly too, notes that Rick and Carl are "definitely in the most dangerous position that they've been in yet, which is where all of the characters are coming out of this episode."
• Gale Anne Hurd tells Access Hollywood she's "very excited because our characters are now on the road and on the run and they're going to encounter some new people on the road, including comic book favorites, Abraham, Eugene and Rosita."
• Zap2it asks Gale Anne Hurd about Hershel's death, and she says he died because he "really was the one character whose death will resonate the most with everyone."
• The Hollywood Reporter discusses The Governor's and Hershel's deaths with David Morrissey and Scott Wilson. Wilson — who also speaks with TVLine, Entertainment Weekly and Access Hollywood — shares that Greg Nicotero made him a duplicate head that he keeps in a trash bag.
• E! Online looks ahead to the second part of Season 4 and what viewers can expect, including Michael Cudlitz's turn as Abraham.
• By the same token, Yahoo TV poses eight questions that it wants answered.
• The Walking Dead is one of Adweek's Hot List TV winners, in the Hottest Drama category.
• TV.com notes that the second half of Season 4 will debut on Feb. 9.
• Interviewed by Yahoo TV, Andrew Lincoln calls Season 4's second half "more radical than ever before. It's almost a tale of two seasons. It really is that radical, the difference between the first eight and the back eight."
• CNN chats with Norman Reedus, who's "officially the coolest customer in the apocalypse."
• Complex calls Ernest Dickerson, the director of the mid-season finale and several of The Walking Dead's most well-received episodes, the show's "silent MVP."
• Entertainment Weekly interviews Chad Coleman, who talks all things Tyreese, including his "maturation process," to "make him a better man and a better leader."
• David Morrissey talks to A.V. Club about the Governor's motivations: "He knows he will do anything to keep these people alive, and that question of what is the 'anything' he will do is where his moral code gets very, very muddy."
• Wetpaint highlights AMC's conversation with David Morrissey, including his psychoanalysis of the Governor.
• USA Today learned eight things from the fall TV season, including The Walking Dead's dominance among younger viewers for the second year in a row.
• VH1 presents a gallery of The Walking Dead's 10 best short-lived characters, from The Hitchhiker to Otis to Morgan.
• Looking ahead, Wetpaint has 10 things to look forward to after the mid-season finale, "once the excitement of Episode 8 is behind us."
• 411mania says horror fans should be thankful for The Walking Dead because it's "incredibly successful and is opening doors for another huge period of horror TV."
• Wetpaint lists eight reasons why it's thankful for Daryl Dixon this Thanksgiving.
• AL.com takes a closer look at seven deaths — from Lori to Sophia — on The Walking Dead that proved no character is safe.
• ComicBook.com points out an homage to The Dark Knight in "Dead Weight."
• The Fort Worth (Tex.) Star-Telegram interviews Taylor Towery, a University of North Texas student, about her experiences as a zombie on The Walking Dead.
• PerezHilton.com spotlights a "brazilliant" fan re-imagining of The Walking Dead set to the Dawson's Creek opening credits.
• According to The Hollywood Reporter, Kirk Acevedo has joined the cast of Syfy's 12 Monkeys drama pilot.
• For recaps and reviews of Season 4, Episode 8, "Too Far Gone," check out BuddyTV, Cinema Blend, Den of Geek, E! Online, Forbes, The Hollywood Reporter, The Huffington Post, IGN, The Inquisitr, The Oregonian, San Jose Mercury News, The Star-Ledger, Time, Vulture, Wetpaint and Zap2it.
• To stay up-to-date on all the latest news about The Walking Dead, sign up for the weekly Dead Alert newsletter.
Read More