Press
Robert Kirkman Talks Villain Negan With EW; Steven Yeun to Guest Star on American Dad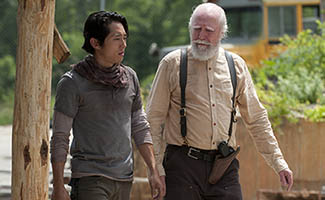 This week, Robert Kirkman discusses the possibility of comic book villain Negan appearing on the show, while American Dad will feature a character voiced by Steven Yeun in a future episode. Plus, Lori's demise is dubbed one of the most shocking on TV by E! Online. Read on for more:
• Entertainment Weekly asks Robert Kirkman about when Negan, "that other iconic villain from The Walking Dead comic book," might show up on the TV show. A hint: don't expect to see him in Season 4.
• Steven Yeun will voice a character on FOX's American Dad, in an episode that will air later this season, Entertainment Weekly reports.
• "Uggggghhhhh… This was hard to watch," E! Online says of Lori's death, calling it one of the most shocking TV deaths.
• According to Adweek, The Walking Dead's ratings show that it's "not just that it's still possible for a show to have the same kind of mainstream appeal network execs remember from the good old days, but that it's possible for that show to exist on cable."
• Jon Bernthal tells Yahoo TV he'll "always be a fan" of The Walking Dead and does his best to ban spoilers when meeting up with his former castmates, like Andrew Lincoln and Norman Reedus.
• Time reports that The Walking Dead garnered the second-most Twitter buzz of any TV show in 2013 (behind Breaking Bad), according to Nielsen.
• CarterMatt thinks one of the year's biggest shockers was Rick's banishment of Carol: "The reverberations of this move are so drastic, we don't believe they have been fully felt yet."
• NPR traces the history of zombies, citing The Walking Dead as an example of the walkers "having a pop culture moment for some time now."
• TVWise reports that the second half of Season 4 will hit U.K. screens on February 10, just 24 hours after it airs in the U.S.
• Business 2 Community applauds the creative talent that's made The Walking Dead "a juggernaut, not only on the airwaves, but in cyberspace."
• FEARnet highlights Funko's February release of a new series of figures: injured Daryl, Carl, Maggie, a Woodbury Walker and Penny.
• For more figures, check out ComicsAlliance, which features the newest Minimates (Riot Gear Glenn and Maggie, Tyreese and Prison Michonne, and Survivor Morgan and a Geek Zombie).
• To stay up-to-date on all the latest news about The Walking Dead, sign up for the weekly Dead Alert newsletter.
Read More