Q&A – Carrie Cottrill, Owner of The Woodbury Shoppe (a.k.a. The Walking Dead Store)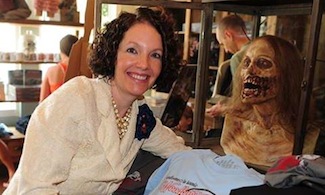 Carrie Cottrill, the owner of The Woodbury Shoppe, devoted to all things The Walking Dead, talks with www.amc.com about the best-sellers in Senoia, Georgia (a.k.a. Woodbury) and what it's like when Norman Reedus visits her store.
Q: What made you decide to open the shop earlier this year?
A: It was the brainchild of Scott Tigchelaar, who owns the studio [Raleigh Studios] in Senoia. I had worked with him in the past. People were coming from all over the world to see where the show was shot. There was a huge fan base, especially for Woodbury. Scott said, people are asking for souvenirs. Some of the local shops had a little bit of merchandise, things they had made up. Scott said, "Maybe we should do a store?" Then three weeks later, we had the store up and running. We knew it was going to be a great idea and fill a need. But it has exceeded all of our expectations. It's been gangbusters. People have been diverting vacations, saying, "Oh, we were on our way to Disney World and we heard about your shop. So we just had to come here." It's been non-stop. We see people from all over the world.
Q: What are some of your best-selling items? Why do you think these items are so popular with customers?
A: The number one best-seller is, by far, our T-shirts. We've made our own T-shirts that are related to the Senoia-Woodbury thing. Those are very popular I think because people want to have that souvenir of their experience here. But our best-selling T-shirt of the bunch is one that says "Keep Calm" and then each has a saying like "Don't Trust the Governor" or "Don't Leave Woodbury." I think people like that because it's a good conversation starter.
Q: The walls of the store are adorned with autographs from cast and crew. Any fun anecdotes?


A: All of the stars have signed our walls. All of the stars have been in the shop. But Normas Reedus is obviously a fan favorite, across the board — with men, with women. Anything with Norman Reedus sells. He's been in the shop several times. People just regard him so highly, because when he is there, he's so accessible. He's gracious, he's kind. He so enjoys the fans and people just really connect with him. But just as much with the stars, on the back end, Greg Nicotero, Robert Kirkman, they have a huge following. People are just as interested in seeing them as they are as the stars.
Q: What's the weirdest request you've gotten from a customer?
A: A lot of people bring in stuff they've made for the stars, especially for Norman. They're like, "Hey, I made this. Can you give it to him?" We've had a lot of phone calls, like "I'm planning my vacation for this period. Would you call Norman and see if he come down and be in the store then?" As if I have Norman's direct line, as if he and I are best buddies and I'll give hims call and he'll just pop down here. [Laughs]
Q: The store features a zombie bust of Bicycle Girl on display that was used in the show. How did you obtain that?
A: That was a gift from producer Tom Luse and Greg Nicotero, who made it. Tom came in the store and loved the place. He said, "We have to have some artifact from the show in here!" The bust has been a big draw for us. People just love looking at it. Occasionally, we'll take her out of her container and people can take pictures with her. She left during Halloween because Tom wanted her to be the centerpiece at a party he was having. Then all we heard for the next week was "Where's Bicycle Girl?" But she's back her at home now.
Q: Do you have any The Walking Dead merchandise on your own holiday wish list?
A: My husband did want Michonne's katana. His birthday is close to Christmas so we got him one. He's a salesman and he hung it in his office. He says every person who comes in want to know where he got it and hold it.
Q: Aside from the town's appearance, are there any similarities to life in Woodbury and real life in Senoia?
A: Probably not. Senoia is a great place. It has the best energy. It's like Mayberry on steroids. Such positive energy.
Click here for photos of The Woodbury Shoppe.
Click here for more info on The Woodbury Shoppe.
Read More