The Walking Dead Holiday Gift Guide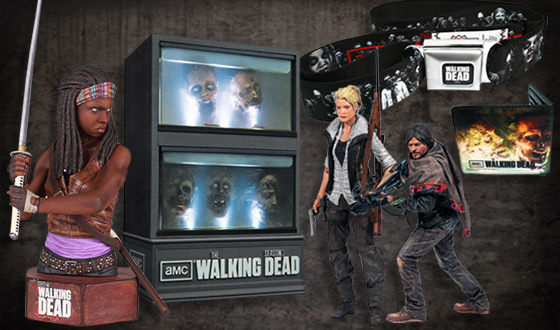 Sometimes making it through the holiday shopping season can be as tough as surviving a zombie apocalypse. This year, avoid the  herds at the stores and shop online for fellow The Walking Dead fans.
For the Desk Jockey: Character Mini Busts
Got a loved one who pulls long hours at the office? These mini busts of Rick, Michonne and others are not only a welcome sight for sore eyes, they're utilitarian. Admit it: The Governor makes killer paperweight.
For the Pragmatist: Belts and Wallets
Paper and plastic money has no value for survivors on The Walking Dead but in the real world, zombified wallets (and belts) are a great way to pay homage to your favorite show.
For the Instagrammer: Life-Size Character Cutouts
Need to take your selfies to a new level? How about posing with a stand-up, life-sized cutout of Daryl Dixon or Rick Grimes?
For the Diehard: Michonne's Katana
Who knew that you could actually get a  licensed replica of Michonne's katana, hand-forged using traditional Japanese techniques and complete with a Certificate of Authenticity?
For the Kid at Heart: Action Figures
Remember creating epic battles with plastic toys as a child? No? Well, that's sad. But you can still brighten someone else's holiday with these detailed 5″ to 10″ replicas of their favorite characters, complete with accessories and weapons.
For the Completist: Season 3 Limited Edition Blu-Ray
This special five-disc set is the perfect gift for The Walking Dead collector who has it all. What makes it so special? For one thing, the box can be turned into mini-aquariums with walker heads.
Click here to shop all merchandise at AMC's The Walking Dead store online.
Read More