Press
Steven Yeun Chats "Internment" With THR; EW Checks Out The Walking Dead's "Big" Ratings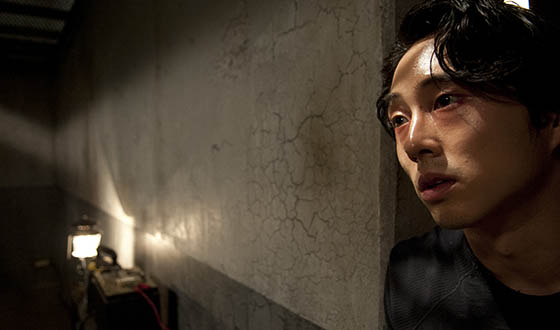 This week, The Hollywood Reporter conducts an "Internment" post-mortem with Steven Yeun, while Entertainment Weekly examines The Walking Dead's blockbuster ratings. Plus, Scott Gimple and David Morrissey discuss the Governor's reappearance. Read on for more:
• Steven Yeun dissects "Internment" with The Hollywood Reporter and, now that Glenn has survived his illness, he observes, "He's a man with a purpose now; he has meaning in his life, and that's what he's trying to cherish."
• Entertainment Weekly puts The Walking Dead's "really, really big" ratings in perspective.
• Scott Gimple talks about the return of the Governor to Entertainment Weekly, noting that, in the next episode, "We will be really getting into who this guy is, to further define this guy."
• Speaking with Entertainment Weekly, David Morrissey suggests the Governor is looking at the prison at the end of "Internment" because he's "looking for safety, and the main thing for the prison is it's the safe place to be." Morrissey also chats with Channel Guide Magazine and SciFiNow.
• New York interviews Scott Wilson, who says he's "curious" about how Hershel will react to the Governor, given what he did to Maggie.
• Wetpaint highlights AMC's video that details the making of "Internment," calling the episode "all about Hershel Greene."
• The Daily Beast talks to Norman Reedus about Daryl's many followers and his character's potential romances.
• Andrew Lincoln chats with the Associated Press about signing up for The Walking Dead: "I get to wear boots and ride a horse and shoot people for a living? Count me in!'"
• Wetpaint reports that The Walking Dead is up for four People's Choice Awards nominations: Favorite Sci-Fi/Fantasy TV Show, Favorite Cable TV Drama, Favorite TV Anti-Hero for Andrew Lincoln's Rick and Favorite Sci-Fi/Fantasy TV Actor for Lincoln, too.
• International Business Times makes the case for why The Walking Dead should win every award for which it's nominated.
• ComicBook.com learns from Greg Nicotero that Merle's death in Season 3 was a last-minute decision.
• Wetpaint recounts a funny fan encounter related by Andrew Lincoln at last week's Walker Stalker Con.
• BuddyTV traces Carol's transition from "a fearful wife to a headstrong warrior."
• Wetpaint has some fun facts about Melissa McBride.
• ComicBook.com highlights the screenshot listing Norman Reedus' favorite episodes that was shown during "Internment."
• Complex.com offers its guide to friendship during the zombie apocalypse à la The Walking Dead.
• On the occasion of the 10th anniversary of Love Actually, Andrew Lincoln shares his recollections with The Daily Beast.
• For recaps and reviews of Season 4, Episode 5, "Internment," check out Access Hollywood, The Baltimore Sun, Den of Geek, Entertainment Weekly, HitFix, IGN, Los Angeles Times, MassLive, MTV, Salon, The Star-Ledger, Time, TV.com, TVLine and Zap2it.
• To stay up-to-date on all the latest news about The Walking Dead, sign up for the weekly Dead Alert newsletter.
Read More