Interviews
Q&A – Steven Yeun (Glenn)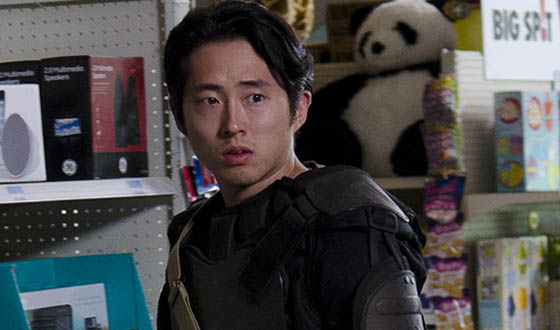 Steven Yeun who plays Glenn on AMC's The Walking Dead, talks about Glenn's secrets to survival and some funny fan antics he's witnessed.
Q: What do you do to get yourself in shape for the show every season?
A: Norman and Andy and I have a lot of discussions about this. We do have to be strong enough to pull off what we're asked as actors to do. But then also, we want to make it realistic, in that we don't want these guys to be jacked or anything like that. I just try to stay relatively healthy. But when it comes to gearing up for the new season, we even had discussions about taking a one week camping trip to get disheveled and disgusting. It's interesting, because once we start shooting we actually start getting skinnier and more malnutritioned and gaunt as we go. The first and second season, Jon Bernthal got me into boxing, and that's been good to just get strong without making you look like you're 'roiding out.
Q: Do you box with any other cast members?
A: Just Jon actually. He could kill me with one hit.
Q: Do any other aspects of The Walking Dead become a part of your life?
A: This show is really intense in that we're living out these characters' lives. So you just kind of live out really terrible situations that hit really close to home, so last year with what Glenn was going through, it was hard to not fall into his pit of despair and depression and keep my composure. I think that's your job to kind of separate the two, so you don't go insane.
Q: Glenn and Maggie have the best room at the prison. What's the coolest place you've ever slept?
A: There are nice hotels, but nothing beats 1993, on the middle of a small mat on my grandma's farm in one of the hottest summers in Korea. You can like smell the grain that they're growing — they actually own a Tobacco farm. And you're just laying there on the ground while my grandmother's cooking.
Q: Are zombies a part of Korean culture at all?
A: I think the idea of it exists, but don't know if it is in their pantheon of monsters. Korea has a way of being more about goblins and ghosts, and less about vampires, werewolves, and zombies.
Q: What did you know about Glenn's arc and what surprised you about it this year?
A: I knew that going in that Glenn was going to be a little more careful. All the things that he's suffered for and learned for his mistakes for. He wants to really keep and cherish the idea of family, and keeping those around him that he loves. Scott [Gimple] told me that was the direction Glenn was headed. But there were some surprises in terms of how feeble he was in his attempts to do so, early on.
Q: We've talked before about your background in comedy. Is there any space for humor for Glenn in the apocalypse?
A: I think earlier on in the first season, and the second season a bit, Glenn had that. But I think that as things wear on him, and as Glenn started having more things to care about and protect, he became a little darker. But I think that part of him still exists and hope it will come out sooner or later.
Q: What's Glenn's secret to survival?
A: Resilience. He's hard to knock down, and if he does get knocked down, he's hard to keep down.
Q: You're an internet guy. Have you checked out any The Walking Dead tributes online?
A: The Glenn ones are pretty funny. The meme about being jealous of how Glenn does some nonsense and then gets laid? It's good for Glenn! In person, a girl on the street once saw me about a block away and then she started walking towards me and doing the whole zombie walk. She regretted it as soon as she got up to me. She was like, "I'm so sorry, that was so embarrassing."
Read More