Press
Norman Reedus, Steven Yeun Visit The View, Craig Ferguson; Scott Gimple Talks Midseason Finale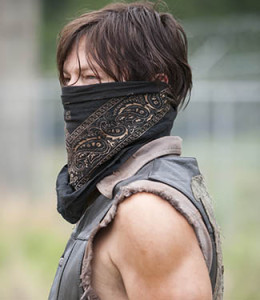 This week, Norman Reedus and Steven Yeun do the talk show circuit, while Scott Gimple chats with The Hollywood Reporter. Plus, Reedus poses with his cat. Read on for more:
• The View hosts Norman Reedus, who says zombies aren't scary because of their make-up. Rather, "It's the scared, lost dying person behind the monster that's scary."
• Steven Yeun talks to Craig Ferguson on The Late Late Show about trying to grow a mustache and why he's not allowed to do it for The Walking Dead.
• Scott Gimple teases to The Hollywood Reporter that this week's midseason finale "fulfills the story of the first seven episodes. It is very much an ending of sorts for a lot of these characters' stories."
• Norman Reedus poses with his cat ("a big fluff loveball") for his People Sexiest Man Alive photo shoot.
• Lauren Cohan talks to Eide Magazine about Maggie: "Even within the boundaries of her southern, religious upbringing, there is such a feistiness about her." Cohan also speaks with The Philadelphia Inquirer about her background and how best to kill a zombie.
• The Hollywood Reporter highlights a German ad campaign for The Walking Dead that targets female viewers and features models that morph into zombies.
• Wetpaint checks out Chad L. Coleman's Q&A with AMC and thinks Tyreese's "defining moment" occurred in "Isolation" earlier this season.
• Zap2it compiles a The Walking Dead-themed holiday gift guide, including a $279.99 official licensed version of Michonne's katana.
• Wetpaint reports there will be a Season 4 marathon for The Walking Dead this weekend.
• Screen Crush does a comic vs. TV show comparison for "Dead Weight."
• For recaps and reviews of Season 4, Episode 7, "Dead Weight," check out Access Hollywood, CarterMatt.com, Cinema Blend, Den of Geek, Entertainment Weekly, E! Online, Forbes, Houston Chronicle, The Huffington Post, Mania, Metro, National Post, New York Daily News, PennLive and TV Guide.
• To stay up-to-date on all the latest news about The Walking Dead, sign up for the weekly Dead Alert newsletter.
Read More