Press
David Morrissey Visits Conan O'Brien; Steven Yeun Named One of People's Sexiest Men of the Year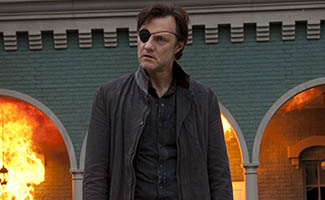 This week, David Morrissey talks to Conan O'Brien about the Governor and not wanting to become a zombie, while Steven Yeun is one of People's sexiest men of 2013. Plus, Men's Fitness features Norman Reedus on its cover. Read on for more:
• David Morrissey chats with Conan O'Brien about never wanting to be a zombie, though he adds, "No one is safe on our show and I think that's the way we like it."
• People names Steven Yeun one of its Sexiest Men of 2013 — and has video of the photoshoot Yeun did for the special issue where he defines sexiness as "how you exude your presence in the world."
• Men's Fitness puts Norman Reedus — "the sex symbol of the south" — on the cover of its December issue. It also posts a behind-the-scenes cover shoot video and details four reasons why Reedus is a badass.
• One of TV Guide's top moments from last week was the revelation of the Governor's return, "creepily staring at the prison from afar."
• Rolling Stone interviews David Morrissey, who says that the Governor in Season 4 is "about the raw elements of him deciding whether he's going to step up again and become this leader, whether he's going to take control." Morrissey also discusses "Live Bait" with Access Hollywood, The Daily Beast, The Hollywood Reporter, New York and TV.com.
• Norman Reedus jokes with New York that Daryl's love life is an endless source of fascination: "They try to pair me up with everyone. But whatever happens, I want that character to earn it."
• Wetpaint highlights Entertainment Weekly's Nov. 22 issue, which has a feature on The Walking Dead's "most important and memorable props," including Michonne's katana.
• The Walking Dead had Twitter's largest "unique audience" (including the number of people tweeting about the show and viewing those tweets, as well as the number of tweets), according to Nielsen's Social Guide, Newsday reports. [No Link]
• Ahead of "Live Bait," David Morrissey chats with TV Guide and The Hollywood Reporter. He tells the former that "there's an element of him [the Governor] trying to reinvent himself into a person that is good, a person that has humanity and is of value and worth."
• David Morrissey chats with Ellen DeGeneres, who decides to have one of her employees don a mask and scare him during his appearance.
• Andrew Lincoln shares his thoughts on Love Actually, on the occasion of the film's tenth anniversary, with Entertainment Weekly.
• USA Today looks at Love Actually's breakout stars, including Andrew Lincoln.
• Talking to E! Online, David Morrissey calls Season 4 "a really great season… It's a much-more character-driven season."
• Scott Wilson talks to Yahoo TV about doing all of his own stunts in "Internment," calling the episode "very physical, but then it was interesting."
• Reel Life With Jane interviews Emily Kinney, who says that not knowing if Beth will die "helps your acting because it's sort of like your character. You never know what's going to happen next."
• Co.Create talks to Norman Reedus about his book of photographs, The Sun's Coming Up… Like a Big Bald Head, and why there are only a few The Walking Dead pictures in it.
• The Twin Cities' KARE interviews Nichole Beattie, a writer and producer on The Walking Dead who's from Stillwater, Minnesota.
• First Coast News interviews Kennedy Brice, one of the newest cast members of The Walking Dead.
• io9 admires the playing pieces on The Walking Dead's Monopoly set, which it calls "actually kind of brilliant.
• Screen Crush does a TV show vs. comic book comparison of "Internment."
• ComicBook.com shares the name of the song from the opening of "Live Bait", Ben Nichols' "The Last Pale Light in the West."
• For recaps and reviews of Season 4, Episode 6, "Live Bait," check out Collider.com, Entertainment Weekly, Forbes, HitFix, The Huffington Post, MTV, New York Daily News, Parade, San Jose Mercury News, The Star-Ledger, TVLine, The Wall Street Journal, The Washington Post, Wetpaint and Zap2it.
• To stay up-to-date on all the latest news about The Walking Dead, sign up for the weekly Dead Alert newsletter.
Read More