Press
Conan Hosts Norman Reedus; Melissa McBride Discusses Carol's Departure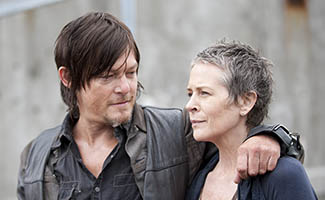 This week, Norman Reedus sits down with Conan O'Brien, while Melissa McBride details Carol's farewell with Entertainment Weekly, The Hollywood Reporter and New York. Plus, Rolling Stone examines the phenomenon that is The Walking Dead. Read on for more:
• Norman Reedus visits Conan O'Brien and discusses squirrel meat and how he turned a "dirty look" into an acting career. Plus, he kind of demonstrates how to use a crossbow.
• Entertainment Weekly talks to Melissa McBride about Carol not being able to say goodbye to Daryl: "She didn't get to say goodbye to anybody. This is great stuff to me. This is important stuff. Devastating stuff. This world that they're living in is so mean."
• Talking to The Hollywood Reporter, Melissa McBride addresses Carol's prospects on the road by herself: "I want to have faith in her, but it's a horrible world, and you never know what's hiding around that tree."
• Melissa McBride tells New York that, in Season 4, for both Rick and Carol, "what's being explored is this thing of how do we come back from the things we have to do?"
• The Los Angeles Times interviews Melissa McBride, who says, "I love all my scenes with Norman [Reedus]. They [Carol and Daryl] bring out such vulnerable and playful sides of each other."
• Rolling Stone declares, "The Walking Dead has come to resemble the fictional zombie plague it documents: relentless, bloody and always getting bigger."
• The Atlanta Journal Constitution attends last weekend's Walker Stalker convention, devoted to The Walking Dead. Atlanta magazine covers a Q&A at the event with Andrew Lincoln.
• Gale Anne Hurd talks "Indifference" with Yahoo TV, teasing that Michonne is "not just a character who scowls, who's a quiet scowler."
• CNN speaks with Greg Nicotero, who says, "The fact that viewers have responded very positively [to Season 4] is rewarding because we fought very hard to make sure the show continues every season to raise the bar."
• Norman Reedus talks to Condé Nast Traveler about filming in Georgia: "It's beautiful. I love it there. It's a different lifestyle; it's slow-paced, and it's very friendly."
• Wetpaint makes a case for why Andrew Lincoln's Rick should win the People's Choice Award for Favorite TV Anti-Hero.
• Chad Coleman tells the Great Falls (Mont.) Tribune he appreciates the show because it's "wonderful characters and great storytelling. I get as locked up in it as anyone else."
• The New Zealand Herald interviews David Morrissey, who previews the Governor in Season 4 as "a man in trauma who's having to deal with the fact he has the capacity to go to such a dark and violent place."
• David Morrissey tells New Zealand Listener about acting with an eye patch, that "fighting, driving, shooting guns with one eye is particularly difficult. You get headaches and you're constantly banging into people."
• Greg Nicotero shares with Collider.com that one of "the best things, for me, about The Walking Dead is that I have a lot of creative freedom to design all the gags and all the walkers."
• Tricia Brock, who directed "Indifference" and Season 3 's "Clear," is interviewed by her hometown paper, the Columbia (Mo.) Daily Tribune, which calls her "the pre-eminent versatile helmer in television."
• Foreign Policy reports that The Walking Dead has "found a massive audience in China."
• According to Forbes, it's time to choose — are you Team Rick or Team Carol?
• New York compiles a slideshow of some photos from Norman Reedus' book, The Sun's Coming Up … Like a Big Bald Head.
• Wetpaint shares six facts about Chandler Riggs, Danai Gurira and Lawrence Gilliard, Jr.
• For recaps and reviews of Season 4, Episode 4, "Indifference," check out Access Hollywood, Boston Herald, Collider.com, Dread Central, Entertainment Weekly, Esquire, HitFix, The Huffington Post, IGN, MassLive.com, MTV, The Oregonian, The Star-Ledger, Time, TV.com, Variety, The Wall Street Journal and Yahoo TV.
• To stay up-to-date on all the latest news about The Walking Dead, sign up for the weekly Dead Alert newsletter.
Read More