Press
The Walking Dead Cast and Producers Provide a Sneak Peek of Season 4 at New York Comic Con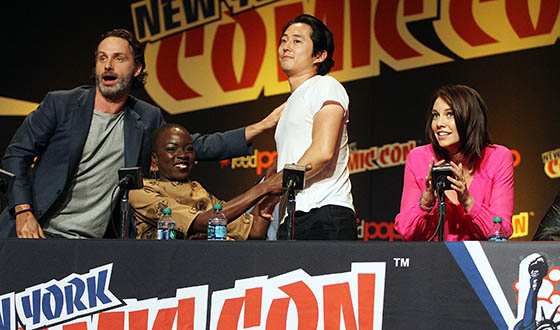 On Sat., Oct. 12, the cast and crew of The Walking Dead took to the stage at New York Comic Con 2013 to discuss Season 4 and provide fans with a sneak peek of the upcoming premiere.
Yvette Nicole Brown of Community moderated the panel, where Executive Producer Gale Anne Hurd introduced a never before seen clip from Episode 1 featuring a helicopter surrounded by a herd of walkers. With the 10th anniversary of the comic book this month and the Season 4 Premiere on Oct. 13, Executive Producer David Alpert called this "the greatest week ever to be a Walking Dead fan."
As the cast joined the producers on-stage, Norman Reedus (Daryl Dixon) threw stuffed squirrels into the audience. The panel kicked off with Brown asking about this season's biggest threat on the show. Hurd warned, "A lot of bad s— is going to happen." Lauren Cohan (Maggie) agreed, saying, "Beware within."

On casting Chad L. Coleman as Tyreese, Executive Producer Robert Kirkman said, "I've wanted Chad to play Tyreese before there was ever any potential The Walking Dead show." On the evolution of his character, Norman Reedus described Daryl as "going into Season 4 in full blown wolf-mode." Show runner Scott M. Gimple added, "Every one of these actors will have stories this season. We're going to see each character go through an arc."
The producers then took a moment to announce a few new members joining the Season 4 cast. Fans of The Walking Dead comic cheered at the revelation that Christian Serratos will play Rosita, Josh McDermitt will play Eugene (mullet and all) and Michael Cudlitz has been tapped to play Abraham.
The panel was then turned over to the fans, one of whom asked about killing characters off. "This is an amazing journey," Andrew Lincoln said. "You make these incredible friendships with people on-screen and off. When they go, it's heartbreaking."
Another fan praised Maggie as a bad-ass female, prompting Danai Gurira (Michonne) to raise her fist in agreement. Steven Yeun then jumped out of his seat, channeling Glenn ready to protect his on-screen paramour.
There was also some action during the panel itself: During the audience Q&A, Andrew Lincoln leaped off the stage to autograph one fan's Rick Grimes tattoo, while another fan asked for Norman Reedus' water bottle — one of many flirtatious gestures navigated by Reedus throughout the hour.
As the panel drew to a close, Greg Nicotero, The Walking Dead's Executive Producer and Special FX Make-up Designer, shared a photo of a walker he was particularly proud of: the so-called  "Moss Walker" – a zombie grown into the ground. Gale then challenged the crowd to out-scream the San Diego Comic-Con audience. Impressed by the response, she introduced yet another never-before-seen clip from Season 4 featuring Daryl and Michonne trapped by a herd of walkers that stretched several miles long.
Yvette closed the panel by warning of the upcoming season, "Have Kleenex and some Depends."

The Walking Dead returns tonight at 9/8c on AMC.
Read More