Press
Steven Yeun, Lauren Cohan Talk Glenn & Maggie With EW; Variety Likes Season 4's First Two Episodes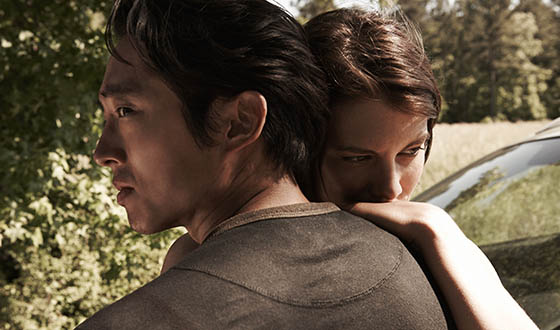 This week, Steven Yeun and Lauren Cohan talk to Entertainment Weekly about what's coming up for Glenn and Maggie, while Variety favorably reviews the first two episodes of Season 4. Plus, Greg Nicotero previews the new season with EW. Read on for more:
• Steven Yeun and Lauren Cohan tell Entertainment Weekly what viewers can expect from Glenn and Maggie in Season 4, including "more loving, less shoving."
• Variety's review of Season 4's first two episodes says the series moves "much more assuredly than the zombies who populate the program, reflecting minor stylistic changes, perhaps."
• Previewing The Walking Dead's Oct. 13 return, Us says, "Zombies are a bigger threat than ever — from outside and within." FEARnet has seen the first two episodes and shares five things to watch for.
• Greg Nicotero tells Entertainment Weekly, "What really excites me about this season is I think that we probably delve more into the graphic novel. There are a couple issues of the graphic novel that we're translating very faithfully."
• Norman Reedus shares his theory of The Walking Dead's appeal with Metro: "Your clock is ticking – just like in real life – so what kind of person do you want to be? What decisions will you make?"
• CBS Sunday Morning cites The Walking Dead as an example of TV's second golden age, where "TV doesn't look like TV anymore. It actually looks like a big-budget feature film."
• According to the Athens (Ga.) Banner-Herald, Gale Anne Hurd says of The Walking Dead, "As long as the audience is watching we will keep showing it."
• The third series of The Walking Dead webisodes, "The Oath," now available, leads to "the revisiting of a very iconic setting from the pilot episode of the series," Entertainment Weekly reports.
• According to ScreenCrush, The Walking Dead will get the Discovery Channel's MythBusters treatment in an episode featuring Michael Rooker.
• Wetpaint highlights the upcoming The Walking Dead marathon, which starts Oct. 7, observing, "nothing matches that shared experience of watching episode after episode for hours on end until you become half-zombie yourself."
• The Atlanta Journal Constitution showcases a mash-up of Breaking Bad and The Walking Dead that makes it seem like "a certain Walter White is to blame for the zombie apocalypse."
• At Wizard World Ohio Comic Con, Michael Rooker talks about how Merle escaped from the rooftop, according to ComicBook.com.
• Den of Geek points out the five ways that The Walking Dead TV show changed what happened in the comic in Season 1.
• Broadway World highlights a new Season 4 promo.
• Bloody Disgusting showcases promotional photos from the Season 4 premiere.
• Monsters and Critics features Season 4 portraits of The Walking Dead's cast members.
• ComicBook.com shares the syllabus for the University of Southern California's new online course, "Society, Science, Survival: Lessons from AMC's The Walking Dead."
• GeekExchange.com features an officially-licensed version of Michonne's katana (noting "let's face it, who doesn't want to be Michonne") and the Season 3 limited-edition Blu-ray.
• To stay up-to-date on all the latest news about The Walking Dead, sign up for the weekly Dead Alert newsletter.
Read More