Press
Scott Gimple One of THR's Top Showrunners; Norman Reedus Doesn't Want to Be a Zombie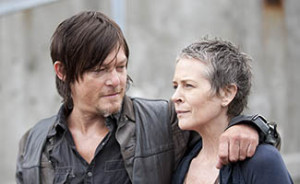 This week, The Hollywood Reporter honors Scott Gimple as one of TV's top showrunners, whle Norman Reedus tells TV Guide why he never wants to be a zombie. Plus, Gimple and other members of The Walking Dead cast and crew discuss "Infected." Read on for more:
• The Hollywood Reporter names Scott Gimple one of TV's top showrunners, crediting him with the Season 4 premiere's blockbuster ratings. THR also spends a day living Gimple's life.
• Norman Reedus declares to TV Guide, "I don't want to be a zombie ever. I don't even want to put that makeup on. I don't want to say goodbye to everybody. I will play Daryl Dixon until I'm 80 years old."
• Scott Gimple makes sense of "Infected" for The Hollywood Reporter, while TV Guide gets the cast and crew's takes on the episode.
• Andrew Lincoln shares with Entertainment Weekly that the illness introduced in the Season 4 premiere "puts far more pressure on the group, and something terrible happens within this story arc that divides the group irrevocably." Lauren Cohan, speaking with EW, talks about Carol's metamorphosis: "The whole transformation for Melissa's character is so much fun. And it has not even begun, let's just leave it at that."
• Andrew Lincoln chats with The Hollywood Reporter about Rick stepping up again: "I love putting that gun back on, but it's heartbreaking as well because he eventually has to give that gun back to his son, something that is yet again a semi-failure."
• Yahoo TV interviews Andrew Lincoln about filming the scene in "Infected" where Rick and Daryl were "zombie chumming."
• Gale Anne Hurd talks to Access Hollywood about the Season 4 premiere ratings: "Everything about The Walking Dead, I think, has been surreal from the very beginning, but it certainly took us all by surprise."
• Members of the The Walking Dead cast and Greg Nicotero appeared on Katie, talking about how the show's more than just zombies.
• Including three days of DVR viewing, The Walking Dead's Season 4 premiere is the most watched non-sports broadcast in cable history, according to The Hollywood Reporter.
• Meanwhile, Variety notes that advertisers are willing to pay more for a package of ads for a new episode of The Walking Dead than they are for a 30-second ad on FOX's American Idol.
• TV Guide polls The Walking Dead cast and crew to find out where they want the zombies to strike next.
• Atlanta Magazine chats with Andrew Lincoln and Norman Reedus in an article titled "True Bromance."
• Teasing the new episodes, Chandler Riggs tells Rolling Stone, "That's kind of what season four comes back to. With all these fences around him, Carl might be able to find his humanity."
• Rolling Stone also interviews Scott Wilson, who compares The Walking Dead to "shooting a Western."
• Danai Gurira tells Rolling Stone about being on a show where your character could die at any time: "You enjoy the moment you're in. You embrace that it's part of what makes the show great – it has that confidence." Philly.com interviews Gurira, who's in town to see a performance of a play she wrote, The Convert.
• Lauren Cohan talks to Rolling Stone about being recognized: "Obviously there's huge fanaticism about the show, but it's nice to be known for something like that."
• David Morrissey speaks with Den of Geek and characterizes the Governor at the end of Season 3 as "a man not in a very happy place, you know he'd done this terrible thing and it's really taken its toll on him, it's not something he can just let go."
• MTV has some burning questions after viewing "Infected."
• Buddy TV names Carol The Walking Dead's "ultimate survivor of the week."
• Norman Reedus tells Metro that The Walking Dead is "one of those rare cases where everything fits together perfectly. There isn't a weak link in our chain right now and I think we continue to get better and better."
• The Winnipeg Free Press examines Daryl's status as "a post-apocalyptic celebrity."
• Den of Geek interviews Michael Rooker about The Walking Dead and says the actor's "performance elevated an already great show."
• Greg Nicotero explains to Newsarama why it's important to watch the Season 4 premiere multiple times.
• FEARnet talks to Vincent Martella about playing Patrick and getting "the opportunity to establish yourself as a character with his own story — then get to play a walker at the end, that's something I don't think you can find anywhere else!" Martella tells TODAY how "excited" he was to play a walker.
• Kerry Condon talks to The Irish Film & Television Network about playing Clara in the Season 4 premiere, saying, "I was completely drawn to the part, the isolation and despair."
• ComicBook.com figures out what song Beth sang to Baby Judith in "Infected."
• Crave Online names its choices for the 20 celebrities it wants to see as zombies on The Walking Dead.
• For recaps and reviews of Season 4, Episode 2, "Infected," check out Access Hollywood, Chicago Tribune, Collider.com, Dread Central, Entertainment Weekly, HitFix, Houston Chronicle, IGN, Los Angeles Times, The Oregonian, Rolling Stone, The Star-Ledger, Time, TV.com and TVLine.
• To stay up-to-date on all the latest news about The Walking Dead, sign up for the weekly Dead Alert newsletter.
Read More