Press
Robert Kirkman, Greg Nicotero Examine Season 4 Premiere; GQ Spotlights Norman Reedus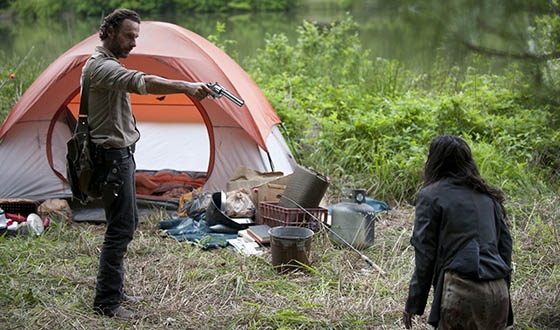 This week, Robert Kirkman, Greg Nicotero and Scott Gimple answer questions about the Season 4 premiere, while Norman Reedus is featured in GQ. Plus, "30 Days Without an Accident" pulls in blockbuster ratings. Read on for more:
• Robert Kirkman breaks down the Season 4 premiere with Entertainment Weekly and teases the new threat as "something on the swine flu level — possibly a little bit more deadly." Meanwhile, The Hollywood Reporter gets the lowdown from Scott Gimple.
• Greg Nicotero and Robert Kirkman offer a postmorten of "30 Days Without an Accident," with Nicotero explaining the purpose of the scene of zombies raining down: "Our guys are so adept at killing walkers that the only way they will ever be thwarted is if they're caught off guard."
• GQ features Norman Reedus in its October issue, complete with a behind-the-scenes video where the actor — who's "gone from tenuous guest star to the mega-hit's most beloved regular" — names his 10 essential items for surviving a zombie apocalypse.
• New York reports that ratings for the Season 4 premiere hit a series high, with 16.1 million same-day viewers and a rating of 8.2 among viewers under 50. The New York Times points out that The Walking Dead "surpassed everything else that has been on television this season so far in its appeal to the viewers sought by most advertisers, those between the ages of 18 and 49." And, according to the Los Angeles Times, the drama is now "in the rarefied company of TV's most-watched shows."
• The Walking Dead also topped the list of the Nielsen's Twitter TV rankings for the week of Oct. 7, says the Los Angeles Times.
• Robert Kirkman, Gale Anne Hurd and Steven Yeun tell MTV that the scene of zombies raining down in the Season 4 premiere wouldn't have happened without Greg Nicotero's direction. Entertainment Weekly has Nicotero's storyboards for that scene.
• Robert Kirkman and Greg Nicotero, who "kicked off TV's modern horror renaissance and proved there's a home for the oft-ignored genre on the small screen," are two of The Hollywood Reporter's Masters of Horror. Also, Kirkman reveals that the grossest thing he's ever seen on screen was in one of the Saw movies.
• Vincent Martella talks to Zap2it and Wetpaint Entertainment about his stint on The Walking Dead, as well as the effect of his character's death on the course of the show.
• New York asks Robert Kirkman about the new season, which will include "trying to make sure that every character on this show is on the show for a reason." Plus, Kirkman and Scott Gimple talk to TV Guide about what to expect in Season 4.
• CNN interviews Gale Anne Hurd, who says the walkers this season are "more ravenous than ever, and there are a lot more of them. We'll get to see how that plays out very quickly."
• Greg Nicotero is interviewed by Bloomberg and says, "We're getting back to some of those great character moments, but we're upping the level of action sequences and zombies."
• TVLine reports on the casting of Southland's Michael Cudlitz as Sgt. Abraham Ford, a character from The Walking Dead comic book. Meanwhile, according to The Hollywood Reporter, Josh McDermitt joins Season 4 as a regular, playing Dr. Eugene Porter.
• Robert Kirkman praises the casting of Michael Cudlitz, calling him "a guy that can stand shoulder-to-shoulder with Tyreese and be imposing and that's something that we needed and that's something that Mr. Cudlitz delivers quite well."
• The Hollywood Reporter checks out Gale Anne Hurd's office, "which doubles as a fanboy's (and girl's) dream."
• New York Newsday credits The Walking Dead for making "genre" shows "suddenly part of the mainstream."
• The New York Daily News applauds The Walking Dead, which "offers some of the best storytelling on TV, performed by one of the most talented casts around. Also, it doesn't hurt that zombies are pretty freaking cool."
• The Walking Dead is a finalist for Adweek's Hottest Show of the Year, Hottest Drama, Hottest Thriller and Hottest Show on Social Media.
• Time interviews Danai Gurira about the realities of The Walking Dead's world.
• Lauren Cohan talks to TVLine about Glenn and Maggie's relationship, saying, "They've put away all of the upset from Season 3, but they still kind of come at things from different sides of the same coin."
• The Huffington Post caught up with Steven Yeun to get some Season 4 scoop, including Glenn's leadership abilities.
• Rolling Stone has some behind-the-scenes tidbits and interviews with Robert Kirkman, Andrew Lincoln, David Morrissey, Steven Yeun, Greg Nicotero and Melissa McBride.
• The Walking Dead panel at New York Comic Con last week was attended by Comic Book Resources, Crave Online and IGN.
• Ahead of New York Comic Con, Norman Reedus told NYC & Company his favorite places in the city and shared his season premiere viewing tradition: "Every year I do the same thing: I sit down with my son, get a lot of ice cream, and we scream at the TV."
• Robert Kirkman talks to Made Man's Paul F. Tompkins, saying that The Walking Dead TV show and comic book "kind of complement each other in tandem as opposed to one being a copy of the other." Plus Kirkman plays "Zombify This!"
• Complex interviews Norman Reedus, who describes Daryl as "not what you think he is at times, and then other times he's exactly what you think he is."
• Michael Rooker tells Digital Spy it's unlikely he'll return to the show in a flashback or dream sequence: "I died two times in one episode! So as far as I know, I am dead… and there's nothing I can do about it."
• The Walking Dead-themed episode of the Discovery Channel's MythBusters, which features Michael Rooker, airs this week — and The Huffington Post has a sneak peek.
• For recaps and reviews of the Season 4 premiere, "30 Days Without an Accident," check out Boston.com, Entertainment Weekly, E! Online, Forbes, HitFix, The Hollywood Reporter, The Huffington Post, Los Angeles Times, MTV, New York, New York Daily News, Salon, San Jose Mercury News, The (N.J.) Star-Ledger, Time, TV.com and Wired.
• To stay up-to-date on all the latest news about The Walking Dead, sign up for the weekly Dead Alert newsletter.
Read More