Uncategorized
Q&A – Ashley Bell (Karina in The Walking Dead – The Oath Webisodes)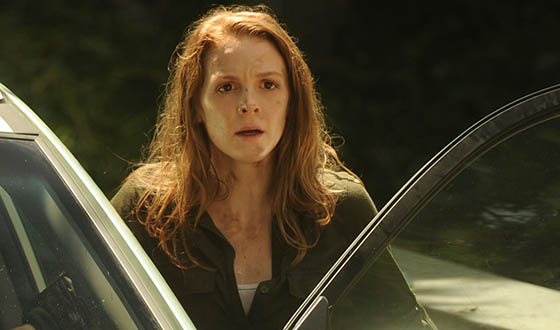 Ashley Bell who plays Karina in The Walking Dead – The Oath webisodes, talks about her own personal oath and what it feels like to stick your hand inside a zombie. 
Q: You worked with Greg Nicotero in The Last Exorcism Part I. Was it fun to get the team back together for the webisodes?
A: Working with Greg Nicotero is incredible. He was responsible for breaking my fingers in that film. It's a special effect where the character breaks her own fingers — I wasn't method enough to break them myself, he had to save me and make breakable fingers for me. And when this project came along and it was the opportunity to work with him as a director, I jumped at the chance. He absolutely knows what he wants to do and it's that complete control, the vision of the world that he has, that makes it so exciting.
Q: You were also in The Exorcism Part II — does the horror genre seek you out or do you seek it out?
A: Well I think it was an incredible opportunity to be asked back for Part II, but what I'm excited about is having switched to different genres since then. I'm coming out in a romantic comedy called The Bounceback and also did like a post-apocalyptic action film called The Day, another romantic period piece called Chasing Shakespeare, a comic book movie called Sparks… so it's opened me up to playing other characters.
Q: Do you think the skills you learned playing a zombie will come in handy in any future experiences?
A: Yes, I can play dead when I don't want to do something. Spoiler alert! That's what was fun to was getting a chance to do that transformation. I've always been fascinated by special effects; both of my parents are actors and when I was 8 I went to visit my dad at Paramount when he was doing Star Trek: Deep Space Nine, and they completely transformed him into this huge alien and I was like, "What is that? It looks like so much fun!" It was cool to be fitted for all the things that would be necessary to transform into this zombie. I guess I only made it to baby zombie phase in this, so I'm like a zombie-ette.
Q: What's it like to stick your hands inside one?
A: Oh my god, that was so creepy! That scene was so much fun. There was such an incredible moment before that happened. They laid out the bodies, the partially decayed bodies that were going to be all dressed, and Greg came up to the body and started turning it into this full, decayed, ripped apart creature. Everybody was just in throes watching him transform this thing into a pulp and it ended up being this masterpiece. But yeah, it made squishy noises when I touched it and it was definitely unappealing to look at. That wasn't hard to act, it was all right there.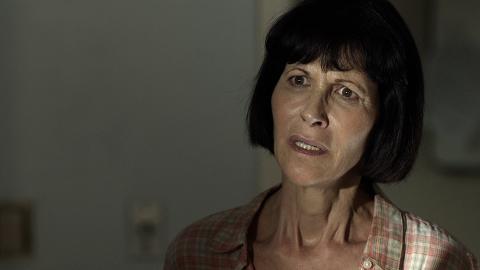 VIDEO: The Walking Dead Webisodes – The Oath, Part II
Q: What's the weirdest place or strangest thing you ever had to do to find your keys?
A: Oh, you know, I had an incident in Santa Monica just trying to find my car. There are like ten different parking structures and I'm that person that's running around five of them, calling LoJack being like, "My car's been stolen!" So the keys I have, it's the car I'm not able to find.
Q: Have you ever had to take an oath or made a pact with your friends for anything?
A: Only to not turn into zombies. And to try to save elephants, that's my oath.
Q: We understand you're working on a documentary about that….
A: Yes, I am. I'm working on a documentary called Love and Bananas, and it's about the rescue of two elephants from a logging facility in Cambodia and their transport to the Cambodian wildlife sanctuary. It's such a passion project for me and I'm heart-set to make it happen. Going over there and seeing the people that work to save these elephants. There are no more wild Asian elephants left in Cambodia.
Click here to watch The Walking Dead – The Oath Webisodes on www.amc.com.
Read More