Press
People Declares Steven Yeun Sexy Man of the Week; Robert Kirkman Talks "Isolation"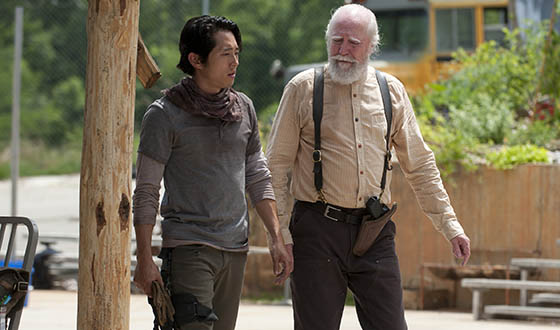 This week, People votes Steven Yeun the Sexy Man of the Week, while The Hollywood Reporter gets Robert Kirkman's take on the most recent episode. Plus, The Walking Dead's characters get Simpson-ized. Read on for more:
• Steven Yeun, named People's Sexy Man of the Week, declares, "Sometimes the funny guy finishes last, but that's not bad. You still finish!" [No Link.]
• The Hollywood Reporter gets the scoop from Robert Kirkman on "Isolation," including how Tyreese will react when he finds out that Carol killed Karen.
• The Walking Dead gets The Simpsons treatment, courtesy of Wired.
• Entertainment Weekly reports that The Walking Dead has been renewed for a fifth season, calling it "the least-surprising renewal of the fall."
• Robert Kirkman teases to the Los Angeles Times, "When it's all said and done and all 16 episodes are completed, you're going to see a cool tapestry that comes together to tell a pretty involved, pretty cool story."
• Melissa McBride talks to Access Hollywood about the reveal that Carol killed Karen and David, saying, "I was really surprised sort of, but then not surprised."
• TV.com tries to figure out who won the zombie slaughter in "Isolation."
• The Hollywood Reporter asks Larry Gilliard Jr. whether Bob Stookey can be trusted.
• Danai Gurira tells Access Hollywood that Michonne thinks the Governor is "a sociopath so she's gonna say this guy needs to be brought down and he's a liability to the people that I care about."
• The Walking Dead cast and crew sounds off to The Hollywood Reporter about their ideas for the spin-off series.
• Carl is one of TV's eight most unintentionally scary characters, according to TheWrap.
• Dread Central posts a video of Larry King's chat with Lauren Cohan and Steven Yeun.
• Yahoo TV does a speed date-style interview with Emily Kinney, who shares that Leonardo DiCaprio is her dream co-star.
• The Savannah Morning News speaks with Norman Reedus, who discusses his favorite ways to kill walkers, including "the crossbow and knife action at the same time."
• Greg Nicotero offers advice to NBC on how to look like a realistic zombie for Halloween.
• Make-Up Artist chats with Greg Nicotero about Nightmare Factory, a documentary that chronicles the history of the make-up effects shop he helped found, KNB EFX Group.
• Wetpaint shares five things you didn't know about Sonequa Martin-Green.
• Adweek credits The Walking Dead for making Halloween "a launch pad for horror-themed cable series."
• IGN names its candidates for the top "harrowing undead-related close-calls that Rick and the survivors have experienced."
• Wetpaint lists Season 4's most disgusting moments so far.
• Chandler Riggs has been cast in Home Invasion, a thriller to be directed by Sean Carter, according to The Hollywood Reporter.
• Wetpaint informs readers where they can catch Norman Reedus in his pre-The Walking Dead projects.
• For recaps and reviews of Season 4, Episode 3, "Isolation," check out Access Hollywood, Collider.com, Complex, Entertainment Weekly, HitFix, The Huffington Post, IGN, Los Angeles Times, MTV, National Post, New York Daily News, The Oregonian, Rolling Stone, Salon, The Star-Ledger, TV.com, TV Equals and Zap2it.
• To stay up-to-date on all the latest news about The Walking Dead, sign up for the weekly Dead Alert newsletter.
Read More