Press
Norman Reedus, Andrew Lincoln Talk Up Season 4 to E!, EW; Lauren Cohan Visits Conan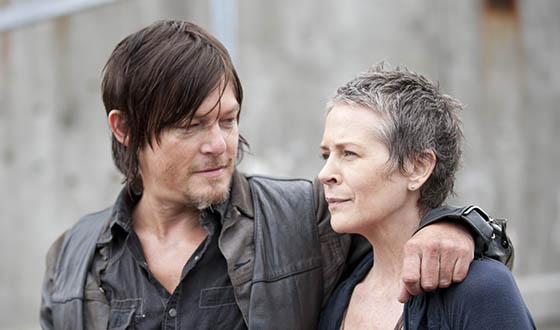 This week, Entertainment Weekly, Rolling Stone and E! get some Season 4 scoop from Norman Reedus and Andrew Lincoln, while Conan O'Brien discusses his zombie ambitions with Lauren Cohan. Plus, TV Guide pays a visit to The Walking Dead set. Read on for more:
• Norman Reedus tells Rolling Stone that The Walking Dead cast is very united: "We fight to keep it real, we fight for the story, we fight for each other. We know we have a good thing going here." Plus, Reedus talks to Entertainment Weekly about Season 4's dynamic: "I like the fear in season 1, and I think the fear is back in season 4, which is awesome to see people afraid again."
• According to E! Online, Norman Reedus calls Season 4 "nuts. It's going to blow people away." Reedus also tells E! that he gets "very upset if anyone's dirtier or bloodier than I am" on set.
• Entertainment Weekly is privy to a conversation between Andrew Lincoln and Norman Reedus in the latter's trailer on The Walking Dead set.
• Speaking with Entertainment Weekly, Andrew Lincoln says that, as Season 4 starts, "the character relationships, and the group dynamic has changed — radically." Lincoln also tells E! Online that Rick actually laughs in the Season 4 premiere.
• Lauren Cohan, chatting with Conan O'Brien, suggests a scenario where Walker Conan chases Walker Andy on The Walking Dead.
• During TV Guide's set visit, Scott Gimple shares, "The theme for this season is, 'Are we too far gone?'"
• Steven Yeun tells TVLine that, in Season 4, Glenn is "looked upon as a leader — someone to go to in tough times."
• Scott Gimple makes it clear to Entertainment Weekly that, in Season 4, "there's been some pretty horrible stuff, some very scary stuff, some imagery that is highly unpleasant in an awesome way."
• USA Today gets the Season 4 lowdown from The Walking Dead's cast, including Norman Reedus, who says the season "breathes in a way that you learn what's inside the characters, what drives them and what's destroying them at the same time."
• Gale Anne Hurd teases to MTV, "Everyone wants to know who Daryl was before the apocalypse. And it's not just the fans, it's the characters on the show. So you never know, we might just find out."
• Collider.com interviews Greg Nicotero and Gale Anne Hurd, who says that, in Season 4, "we want to have the epic scale of some of the big sequences last season, but also make sure that we have the intimate storytelling…"
• Discussing Season 4 with Zap2it, Gale Anne Hurd tells fans of The Walking Dead graphic novel, "There will be things that fans of the comic book will absolutely recognize."
• The Sydney Morning Herald says the Season 4 premiere "gets things off to a good start," while the San Jose Mercury News declares that "there continues to be life in the Dead."
• Reviewing the first two episodes of Season 4, Newsarama says, "It's safe to say that fans of the show should be very happy with the return." The Plain Dealer applauds The Walking Dead for "sprinting along as lively as ever. It's not just good, kiddies, it's bloody good."
• Because he uses an American accent to play Rick, Andrew Lincoln tells Ireland's Independent.ie that his native English accent "isn't normal any more, I'm American now." Meanwhile, Wetpaint marvels that Lincoln is the same actor who played Mark in Love Actually.
• Variety observes that female directors like Michelle MacLaren and Lesli Linka Glatter, who have helmed episodes of The Walking Dead, are "taking on material that is about as far from the three-hanky chick flick as it gets."
• Talking to Total Film, Michael Rooker calls Merle's death "one of those blaze of glory deals!"
• IGN reports that The Walking Dead "has become something of an institution at New York Comic Con" and will be there again this year, with a big panel on Oct. 12.
• BuzzFeed has some questions, which The Walking Dead cast gamely answers.
• TheCelebrityCafe.com names the top 10 moments from Season 3, and HitFix reveals its list of the series' 10 most shocking moments so far.
• In anticipation of the Season 4 finale, Wetpaint offers its list of Daryl's top quotes.
• The Huffington Post offers some suggestions for The Walking Dead spin-off, and the cast has some ideas of its own, according to Zap2it.
• Meanwhile, MTV News tries to get some information on the spin-off from Gale Anne Hurd.
• Wetpaint poses six questions it still has, ahead of the Season 4 premiere. The Baltimore Sun has some urgent queries too.
• The Associated Press reports that the filming of Season 3's "Clear" in Grantville, Ga. has brought "new life" to the town.
• Geeks of Doom posts a video of Joanna Lumley (of Absolutely Fabulous) spoofing The Walking Dead for a commercial for the U.K.'s Sky on Demand.
• App Advice says AMC has "unleashed a huge update" for "The Walking Dead: Dead Yourself" app.
• FEARnet checks out a Daryl and Merle action figure box set.
• Indianapolis' FOX 59 reports that the state's Hoosier Lottery launched a new scratch-off game based on The Walking Dead.
• To stay up-to-date on all the latest news about The Walking Dead, sign up for the weekly Dead Alert newsletter.
Read More